Image: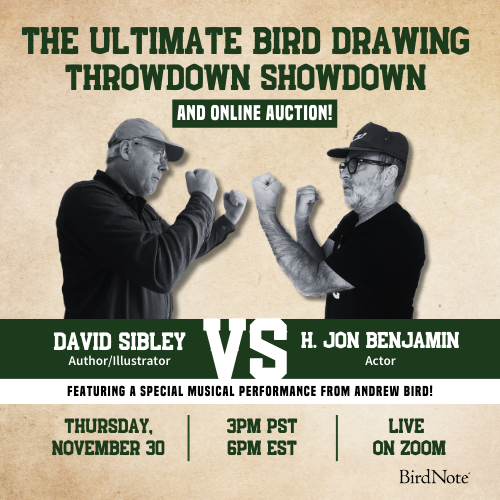 Join BirdNote tomorrow, November 30th!
Illustrator David Sibley and actor H. Jon Benjamin will face off in the bird illustration battle of the century during BirdNote's Year-end Celebration and Auction!
Join BirdNote on Thursday, November 30th at 3pm PST/6pm EST as author and illustrator David Sibley faces off against actor (of Bob's Burgers and Archer) and Morning Bird Report host H. Jon Benjamin! The event will also feature a special live performance from musician Andrew Bird. Registration is required, so RSVP today for this exciting event!
Bid on all kinds of amazing items during this virtual auction, including the original bird sketches drawn by our two special guests. All proceeds from this event will benefit BirdNote's mission to inspire people to care about the natural world and take steps to protect it. To view and bid on the auction items, visit this link, or click the button below.
---
About our Guests
David Allen Sibley is a renowned American ornithologist, author and illustrator, celebrated for his significant contributions to the field of ornithology and his exceptional talent for capturing the beauty of the avian world. His famed The Sibley Guide to Birds is a reference work and comprehensive field guide for birds found in the United States and Canada. Sibley has also authored numerous other books, field guides, essays and memoirs, and his artwork has graced the pages of books, magazines, and educational materials - inspiring countless individuals to develop a deeper appreciation for avian diversity.
H. Jon Benjamin is a an American actor, comedian, writer, producer and musician, celebrated for his distinctive voice and comedic prowess. Benjamin is known for his voice roles in adult animated series, including Sterling Archer in Archer and Bob Belcher in Bob's Burgers. He has also written for and contributed to several comedy series and has has authored a memoir titled "Failure is an Option: An Attempted Memoir," in which he shares his unique perspective on life and humor. During the 2020 lockdown, he rediscovered a childhood love of birds and began delighting his Twitter followers with the "Morning Bird Report".
Andrew Bird is an internationally acclaimed, Grammy-nominated multi-instrumentalist, vocalist, whistler, and songwriter. Since beginning his recording career in 1997, Bird has released 17 albums and performed extensively across the globe, headlining concerts at Carnegie Hall, Sydney Opera House, Walt Disney Concert Hall, Red Rocks Amphitheatre, and festivals worldwide. In June 2022, Bird released his latest album, Inside Problems, on Loma Vista Recordings.
---
Thank you to our generous sponsors for making this event possible!
---
BirdNote is an independent nonprofit media production organization that produces vivid, sound-rich stories about birds and the challenges they face - to inspire people around the world to care about birds and take steps to protect them. As BirdNote relies on listener support to continue producing these beloved stories and fostering connections with the natural world, we ask that you consider choosing a donation-based ticket when registering for this event. We appreciate any amount you choose to give.