Image: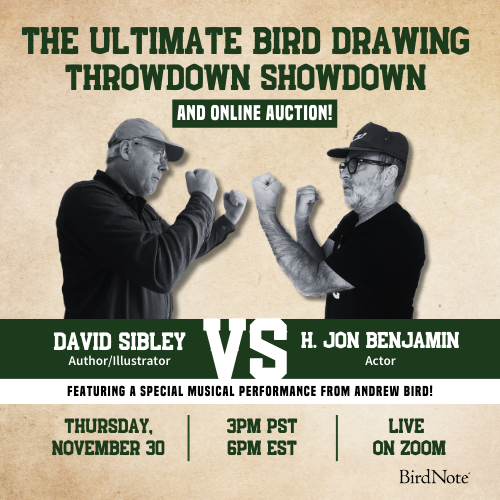 Join BirdNote tomorrow, November 30th!
Illustrator David Sibley and actor H. Jon Benjamin will face off in the bird illustration battle of the century during BirdNote's Year-end Celebration and Auction!
On a stop at the Cocos Islands near Sumatra, the naturalist Charles Darwin described his first encounter with a special little bird. He wrote: "It is a small snow-white tern, which smoothly hovers at the distance of a few feet above one's head, its large black eye scanning, with quiet curiosity, your expression. Little imagination is required to fancy that so light and delicate a body must be tenanted by some wandering fairy spirit."
Support for BirdNote comes from Seattle's Portage Bay Café & catering. Serving local, organic food as part of their commitment to the environment. Info at portagebaycafé.com.
BirdNote®  
Charles Darwin and the White Tern
Written by Bob Sundstrom
 
This is BirdNote.
[White Tern calling]


In the 1830s, young Charles Darwin took an unpaid job as a naturalist aboard the HMS Beagle. His observations from the five-year journey would ultimately put science on a new course.

[White Tern calling, https://macaulaylibrary.org/asset/94615161#_ga=2.244488896.491525157.15…, 0.07-.08]

On a stop at the Cocos Islands near Sumatra, the intrepid naturalist described his first encounter with a special little bird. He wrote:

"It is a small snow-white tern, which smoothly hovers at the distance of a few feet above one's head, its large black eye scanning, with quiet curiosity, your expression. Little imagination is required to fancy that so light and delicate a body must be tenanted by some wandering fairy spirit."

The White Tern is a dainty seabird, just a foot in length, but with a wingspan of nearly three feet. White Terns breed on many small tropical islands, where they plunge from the air to catch fish.

 [White Tern calling, https://macaulaylibrary.org/asset/32579#_ga=2.38957158.491525157.156867…. 0.06-.09]

But the White Tern's approach to nesting leaves observers scratching their heads. It balances its single egg precariously on a branch, a chunk of coral, or a flat portion of a building. Perhaps Darwin wondered why this charming little bird hadn't evolved to find a safer nesting strategy…

For BirdNote, I'm Ashley Ahearn.
                                                             ###
Producer: John Kessler
Executive Producer: Sallie Bodie
Editor: Ashley Ahearn
Associate Producer: Ellen Blackstone
Assistant Producer: Mark Bramhill
Bird sounds provided by The Macaulay Library of Natural Sounds at the Cornell Lab of Ornithology, Ithaca, New York. ML94615161, 0:05 - 0:25, recorded by W Landuyt. ML32579, 1:05, recorded by C Robbins.
Nature SFX #023 Surf moderate sandy throughout
BirdNote's theme was composed and played by Nancy Rumbel and John Kessler.
© 2020 BirdNote   February 2020

ID#  WHTT-01-2020-02-12    WHTT-01   Narrator: Ashley Ahearn


https://www.westernfieldornithologists.org/archive/V16/16(3)%20p0131-p0…