Image: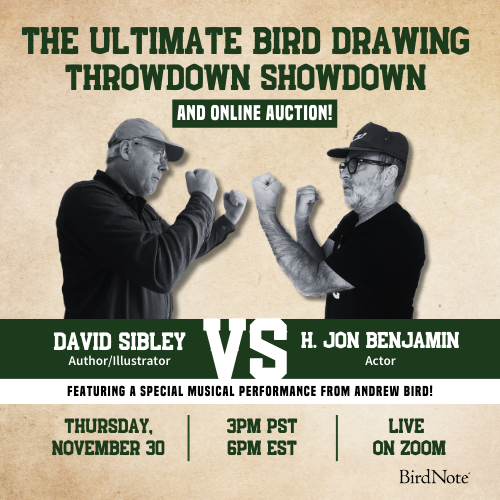 Join BirdNote tomorrow, November 30th!
Illustrator David Sibley and actor H. Jon Benjamin will face off in the bird illustration battle of the century during BirdNote's Year-end Celebration and Auction!
The cheerful-voiced Chestnut-collared Longspur shares its northern prairie breeding range with grazing cattle. Although heavy grazing can have adverse effects, breeding densities of longspurs jump by two, three, or even 10 times when ranchers graze their cattle responsibly on native prairies. Two centuries ago, the birds were probably more abundant on prairies used by bison than on untouched stands of tall grass.
Today's show brought to you by the Bobolink Foundation.
BirdNote®
Chestnut-collared Longspur, Cow Bird 
Written by Rick Wright
 
This is BirdNote.
[Chestnut-collared Longspur, ML 206404] 
The cheerful-voiced Chestnut-collared Longspur gets along well with the cattle that share its northern prairie breeding range - for the most part. 
[Domestic cattle, ML 55308]
But that relationship is not always an amicable one. Cows will sometimes step on the longspur's neatly woven nests in the grass, and there are records of grazing cattle nudging eggs and chicks out of the nests and eating them. In a few cases, heavy grazing appears to have caused adult longspurs to abandon their efforts to breed for the season.
[Chestnut-collared Longspur, ML 206404] 
However, if cows are managed properly, they may be able to help longspurs persist. Two hundred years ago, the birds shared the prairies with bison, which kept the grasses short enough for the birds to nest.  Today, on the northern Great Plains, longspurs' breeding success rates have been shown to increase when ranchers carefully manage their cattle to avoid overgrazing and habitat degradation.
And grassland birds need every bit of help they can get—even from cows.
[Chestnut-collared Longspur, ML 206404] 
For BirdNote, I'm Mary McCann.
Today's show brought to you by the Bobolink Foundation.
###
Animal sounds provided by The Macaulay Library of Natural Sounds at the Cornell Lab of Ornithology, Ithaca, New York. Chestnut-collared Longspur, ML 206404, recorded by Bob McGuire. Domestic cattle, ML 55308, recorded by William H. Gunn.
BirdNote's theme music was composed and played by Nancy Rumbel and John Kessler.
Producer: John Kessler
Production Manager: Allison Wilson
Editor: Ashley Ahearn
Producer: Mark Bramhill
Associate Producer: Ellen Blackstone
© 2020 BirdNote   September  2020/2022   Narrator: Mary McCann
 
ID #: CCLO-01-2020-09-28      CCLO-01