Image: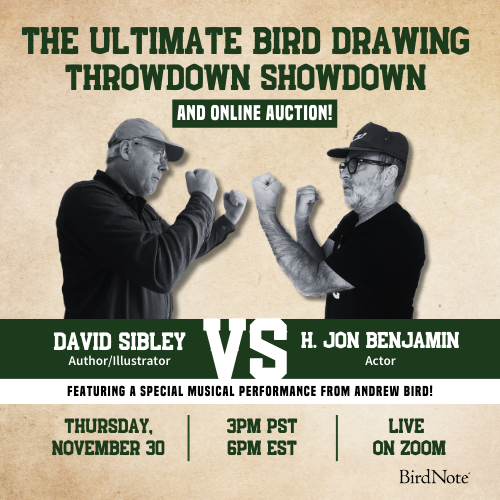 Join BirdNote tomorrow, November 30th!
Illustrator David Sibley and actor H. Jon Benjamin will face off in the bird illustration battle of the century during BirdNote's Year-end Celebration and Auction!
Why do birds start their songs so early in the morning? Many are announcing that they've made it through the night. Some males grab the first opportunity to remind others of their territories and to fend off other males. Certain migratory males signal their location and availability to females that may have arrived during the night. This American Robin is usually among the first  -and the last! - singers of the day.
BirdNote®
First Songster of the Day
Written by Chris Peterson
 [Loud snoring]
This is BirdNote!
[Dawn song of a single robin; continue his singing throughout]
 Ah, what is that racket? Oh, yah, right, it's the crack of dawn!
There's barely light in the sky. [Continue very cheerful robin]
 I just want to sleep.
 [Continue very cheerful robin]
 You don't know how late I went to bed last night. I need my sleep.
 Just like that Scottish king who said…
     "….sleep – the innocent sleep,
      Sleep that knits up the ravell'd sleave of care,
      The death of each day's life, sore labour's bath,
      Balm of hurt minds, great nature's second course,
      Chief nourisher in life's feast," *
 [Continue very cheerful robin]
 And still, you persist!
 [Singing diminishes all the way to nothing]
 But does our sleeper need to feel so grumpy? Maybe if he knew why some birds sing early in the morning he'd feel better. Some are announcing that they've made it through the night. Some males grab the first opportunity to remind others of their territories and to fend off other males. Some migratory males signal their location and availability to females that may have arrived during the night. Staking a claim, attracting a mate …well, I guess it's worth getting up in the morning! [A dawn chorus]
 For BirdNote, I'm Frank Corrado.
###
American Robin song provided by The Macaulay Library at the Cornell Lab of Ornithology, Ithaca, New York. Recorded by W.L. Hershberger.
Dawn song (American Robins, followed by Spotted Towhees) recorded by C. Peterson
Producer: John Kessler
Executive Producer: Chris Peterson
© 2013 Tune In to Nature.org   April 2013   Narrator:  Frank Corrado
ID #071107dawnrobinKPLU   AMRO-08-2009-04-24
• Act II, scene ii Macbeth by William Shakespeare