Today's Show
Evolutionary time is long — the earliest ancestors of birds emerged around 50 million years ago...
Eagles in Iowa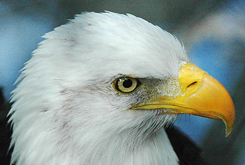 Check out the Bald Eagle nest in Decorah, Iowa.  Join the crowd watching the three young eaglets.
Save
Weekly Preview Email
BirdNote's Weekly Preview is the most colorful email you'll receive all week. Every Friday, we send you links for the upcoming week's shows. Be the first to know!
Save
Save