Today's Show
On January 17, 2019, renowned American poet Mary Oliver passed away.
Recent Shows
Restoring the Land - An Interview with Susan Freeman

Tricolored Blackbirds Face the Future

Sound Escapes - Our Listening Guide

High Island - Migration on the Gulf

The Colors of Chicken Eggs

Turkey Calling - Real or Unreal

Hovering with Horned Larks
BirdNote Gallery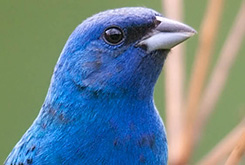 New photos every week! Check out the gallery. This Indigo Bunting courtesy of Kelly Colgan Azar.
Many Indigo Buntings migrate in large flocks across the Gulf of Mexico this time of year. The males sport bright blue plumage during breeding season, while the females remain a muted tawny brown. These persistent singers feed mainly on seeds and insects.
Save
Save
Save
SUPPORT BIRDNOTE
Help BirdNote tell more stories, reach more people, and inspire action.
BirdNote is funded by people who value our work on behalf of birds and the natural world. Your financial support directly affects our ability to tell stories and share them with more than 2 million listeners, online and on air. Thank you!