Image: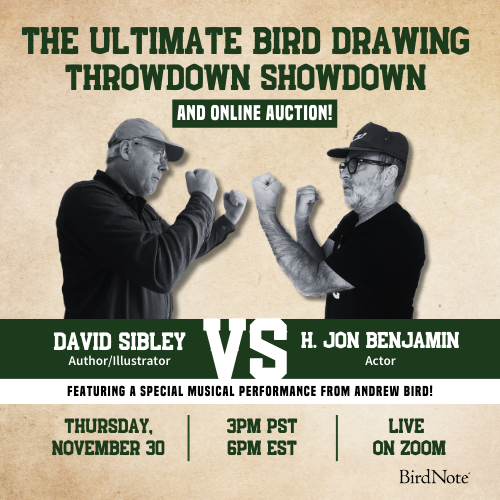 Join BirdNote tomorrow, November 30th!
Illustrator David Sibley and actor H. Jon Benjamin will face off in the bird illustration battle of the century during BirdNote's Year-end Celebration and Auction!
Mission
Birds connect us with the joy and wonder of nature. By telling vivid, sound-rich stories about birds and the challenges they face, BirdNote inspires listeners to care about the natural world — and take steps to protect it.
 
Vision
As listeners tune in to the lives of birds, their connection with nature deepens. They become champions for conservation and stewards of places important to birds and people.
 
Values
Respect & Stewardship: We practice respect for ourselves, our team, our listeners, and our environment. We are honored to be stewards of our listeners' time and attention, our contributors' stories, and the many resources entrusted to us. We acknowledge the interconnectedness of all things, strive to have a positive impact and inspire our listeners to do the same.
Diversity & Inclusion: We continually strive for our programming, staff, leadership, audience, and donor base to reflect diverse perspectives and backgrounds. We work to identify inherent and structural biases in conservation and media and join with others to address these issues. We recognize that this work is imperative to cultivate the kind of inclusive environmentalism necessary for the well-being of birds, people, and the planet.
Fun & Joy: We believe sparking joy and love for the natural world is the first step towards protecting it. By letting fun, curiosity, and wonder lead our work, we kindle this joy for both our listeners and for our team. 
Integrity & Courage: We believe that honest ethical storytelling takes courage, and we embrace that challenge. We take risks when we need to and let our values guide our actions, even when it is difficult to do so.
 
Commitment to Centering Inclusion, Diversity, Equity, and Accessibility
BirdNote operates on the simple premise that the joy of birds is a unifying force between people of all walks of life. In January 2022 the BirdNote Board of Directors unanimously adopted our policy on Inclusion, Diversity, Equity, and Accessibility. Read the full policy here.
 
---
History
In 2004, Chris Peterson, Executive Director of Seattle Audubon, had a big idea to put short stories about birds on public radio. Chris engaged writers to craft compelling stories about the intriguing ways of birds, ornithological advisors to ensure scientific accuracy, and a team of experts to bring the show to life. Advisors from Western Washington NPR affiliate KPLU 88.5 FM (now KNKX 88.5 FM), along with Seattle-area benefactors, brought BirdNote to the airwaves. KPLU aired the first BirdNote show, Bald Eagle, A National Symbol, on February 21, 2005. Given BirdNote's success in the Puget Sound region — and the possibility of nationwide expansion — BirdNote became a separate 501(c)(3) non-profit organization in 2006.
BirdNote grew from four stations in 2007 to where we are today, a national public radio show and with an expanding slate of podcasts and digital media offerings. As we celebrate 18 years of inspirational storytelling in 2023, we honor the people who launched the organization and the many thousands of contributors, supporters, and listeners who have contributed to our success. Thank you for caring about birds and the future of our fragile natural world.