Image: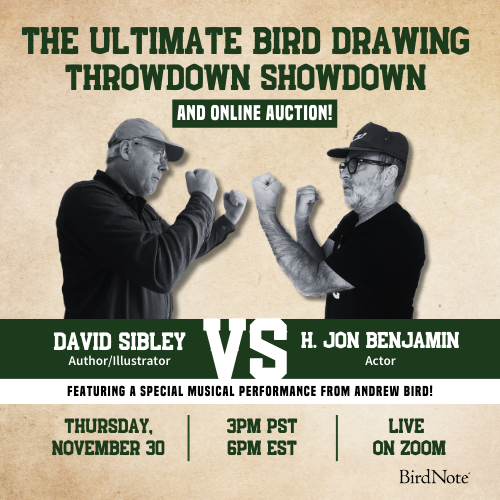 Join BirdNote tomorrow, November 30th!
Illustrator David Sibley and actor H. Jon Benjamin will face off in the bird illustration battle of the century during BirdNote's Year-end Celebration and Auction!
Have a question, a comment, an idea? A funny story, a complaint, a suggestion?
Please: no offers of paid guest posts, web development, or other solicitations. Thanks.
Send Us a Message
Email us at [email protected]
Note: BirdNote will not sell or trade your name or email.
Call Us
206-494-0275
Contact Us Via Mail
BirdNote
PO Box 1857
Asheville, NC 28802
Connect Through Social Media
You can find BirdNote on Facebook, Instagram, TikTok, YouTube and LinkedIn.
Sign up for BirdNote's Newsletter
Subscribe here.
Leave Us a Testimonial
Tell us why you love BirdNote here.