Image: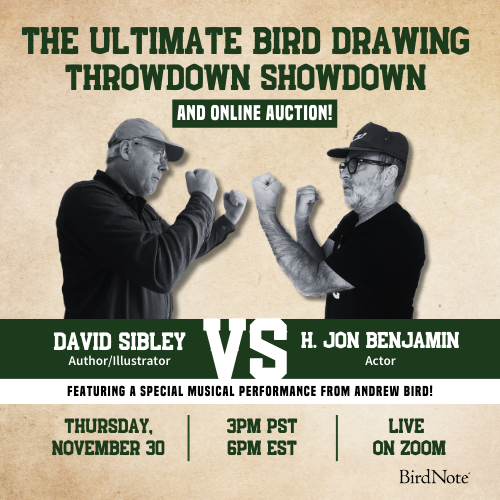 Join BirdNote tomorrow, November 30th!
Illustrator David Sibley and actor H. Jon Benjamin will face off in the bird illustration battle of the century during BirdNote's Year-end Celebration and Auction!
Purpose of the advisory council:
Provide guidance and feedback to BirdNote staff on scientific accuracy of programming.
Offer diverse scientific perspectives on content.
Connect producers and writers to people and ideas in the bird science community.
Contribute to conceptualization and steer content across platforms so BirdNote leads the audio industry in storytelling about birds and ecosystems.
Advance BirdNote's mission and help achieve our vision.
To learn about BirdNote's mission, vision, and IDEA values, visit our 'Who We Are' page.
BirdNote is currently seeking to fill several Science Advisory Council seats. To be considered, please email our production department a current resume and cover letter conveying your interest in serving and what perspective you would bring to the council.
Staff liaison: Content Director
Responsibilities of council members:
Attend quarterly Science Advisory Council meetings
Make recommendations to staff to ensure scientific accuracy and credibility of BirdNote productions
When requested, provide feedback on BirdNote productions' scripts, concepts, interview subjects, within a predetermined time frame
Alert BirdNote staff to new developments in bird science and potential opportunities to collaborate with other organizations or individuals in the field.
Benefits of Science Advisory Council Membership:
Contribute to beloved daily public radio programming and podcasts
Collaborate with scientists from a variety of locations and backgrounds
Opportunities to develop and be part of communities of practice in science, public media, and conservation
Science Advisory Council membership duration:
3-year term limits, with option to be reappointed.
Criteria for membership:
Demonstrated expertise in an area of bird science as evidenced by graduate degree, certification (e.g. master birder), and/or field experience.

Background or interest in science communication

Passionate about spreading the joy of birds to a diverse audience and making birding accessible to all

Availability to virtually attend meetings on the 2nd Monday of January, April, July, and October, 3-4:30pm PT/6-7:30pm ET
Council Seats: 10