Image: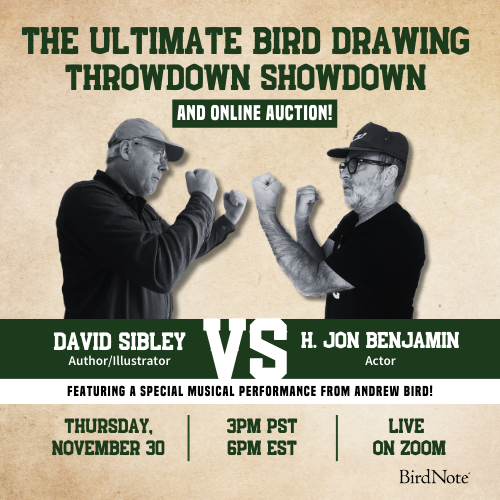 Join BirdNote tomorrow, November 30th!
Illustrator David Sibley and actor H. Jon Benjamin will face off in the bird illustration battle of the century during BirdNote's Year-end Celebration and Auction!
Ashley Ahearn is an award-winning public media journalist who has covered science and the environment for NPR and member stations for more than a decade. Ashley's stories have appeared on the BBC, All Things Considered, Here and Now, The World and other NPR shows. She has a masters in science journalism from the Annenberg School at the University of Southern California and has completed reporting fellowships at the Knight Center at MIT, the Vermont Law School, the Metcalf Institute at the University of Rhode Island, and the Institutes for Journalism and Natural Resources. Ashley hosted and created Terrestrial, a podcast about climate change, for KUOW in Seattle. She now runs her own podcast production and consulting company and lives in Washington's Methow Valley with her husband and dog. If you can't get a hold of her, it's probably because she's out riding her motorcycle or her horse, Pistol.