Image: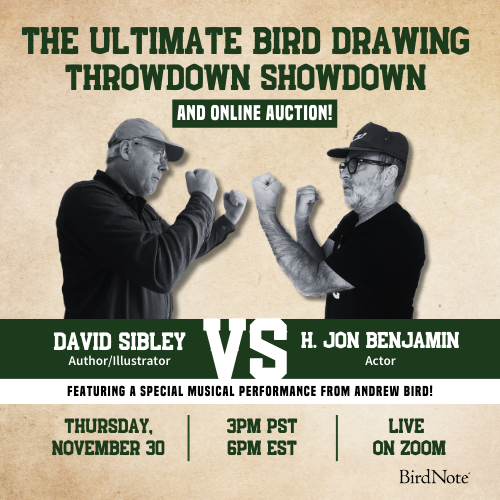 Join BirdNote tomorrow, November 30th!
Illustrator David Sibley and actor H. Jon Benjamin will face off in the bird illustration battle of the century during BirdNote's Year-end Celebration and Auction!
Director Emeritus
Tom is a retired senior manager from The Boeing Company, who holds a Ph.D. in materials science. He has over 30 years' experience in program management, strategic planning, and organizational leadership. Prior to Boeing, Tom was a research scientist at Brookhaven National Laboratory in New York. During his professional career, he published extensively in scientific journals and built partnerships with government sponsoring organizations.
It was while living on rural Eastern Long Island that his passion for birding was ignited. One day in mid-winter, he saw an unexpected brilliant flash of red against a sunny, snow-covered field. Upon identifying this migrant visitor as a rare Hoary Redpoll, his life's adventure in birding began!
Tom has served in volunteer leadership positions both in professional associations and in his neighborhood. He enjoys tutoring young people in science, hitting the links when the weather permits, and pursuing adventure travel.