Image: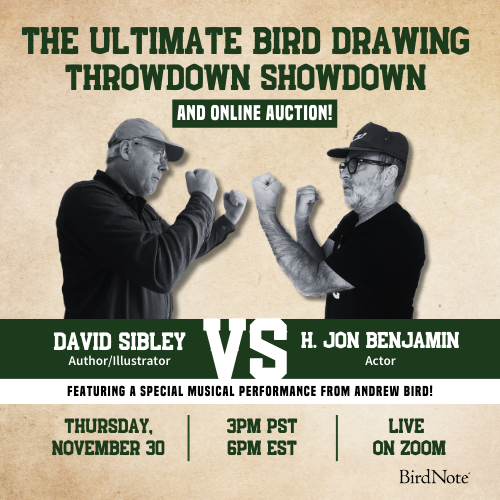 Join BirdNote tomorrow, November 30th!
Illustrator David Sibley and actor H. Jon Benjamin will face off in the bird illustration battle of the century during BirdNote's Year-end Celebration and Auction!
Image:
BirdNote is teaming up with upcoming host of National Geographic's "Extraordinary Birder" and ardent advocate for birds and safe birding, Christian Cooper, for a one-of-a-kind online event made specially for our fans. If you're passionate about birds and the future of conservation, join us for a conversation to learn how YOU can become a powerful champion in the movement to protect nature.
Join us on Thursday, December 1, 2022 at 3 - 4 PM EST/12 - 1 PM PST
Visit this link to register for the event.
This free event will feature a discussion between Cooper and Nick Bayard, BirdNote's Executive Director, and will kick off our Year-End Fundraiser. Towards the end of the event, we will be asking attendees to contribute to our mission of sharing the joy and wonder of birds and inspiring people to take steps to protect them.
This event will be recorded and available on BirdNote's website after the event.
---
About Christian Cooper:
Image:
Christian Cooper is the host and a consulting producer for the upcoming National Geographic series Extraordinary Birder. He served as president of the Harvard Ornithological Club in his college days and currently is a vice president of New York City Audubon, where he advocates for greater, safer access to green spaces for all, with a focus on outreach to youth in underserved communities. His memoir Better Living Through Birding is forthcoming from Random House in early 2023.