Image: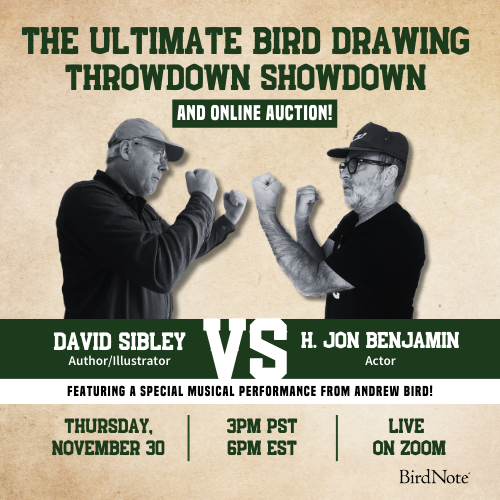 Join BirdNote tomorrow, November 30th!
Illustrator David Sibley and actor H. Jon Benjamin will face off in the bird illustration battle of the century during BirdNote's Year-end Celebration and Auction!
Image:
Threatened is a longform narrative podcast produced by BirdNote that features stories about the enduring connections between birds, people, and landscapes. Hosted by science reporter Ari Daniel, each ½ hour-ish episode tells a story about a place where people are answering the call to protect birds.
Stories in the pilot season of Threatened were about the importance of seabirds in the traditions of residents of the Pribilof Islands, grassland restoration and curlew tracking in Idaho prairies, the danger that a proposed port expansion in the Fraser Estuary poses to Western Sandpipers, and the fight of the the Łutsël K'é Dene First Nation to protect a huge swath of the boreal forest where billions of birds nest and hatch their chicks.
In Season 2, we're looking for experienced audio producers to create sound-rich stories around the same themes of birds, people, and landscapes. Climate change, habitat loss, and development threaten our bird populations, and we are searching for somewhat hopeful stories where people are fighting or working against those seemingly insurmountable issues. We'd love to see pitches about a relationship between a person and a particular bird, how birds are affected (or not) by an international border, or how a person has changed through their work with or connection to birds. We're interested in stories about historically underrepresented communities and working with producers from diverse backgrounds.
Producers will pitch, report, field record, script, and track their own stories, working with our story editor on outlining, reporting, and script revisions, with support from the BirdNote team. Each script is reviewed by science advisors to ensure accuracy. After script approval and tracking with Ari, our team handles audio assembly, sound design, and mix. Compensation is $3000 per story. Limited travel expenses available, if needed, and must be approved in advance. To pitch a story, fill out this form before February 25, 2021.
If you have questions please email BirdNote Production Manager Allison Wilson (she/her) at [email protected].
Artwork: Clint McMillen at Braincloud Design