Image:
While walking along nature trails one Spring day, photographer Jocelyn Anderson came across a family of Sandhill Cranes with two colts making their way nearby on a grassy path. The parents were plucking invertebrates from the tall grasses to feed to the young ones as they continued on their morning walk. This photo, which won second place in BirdNote's 18th Birthday Photo Contest shows this family of Sandhill Cranes, walking through a grassy field. Learn more about the story and meet Jocelyn Anderson below:
1. When and where was the photo taken?
This photo was taken at Kensington Metropark in Milford, Michigan in May of 2022.
2. Who were you with when you took the photo?
It was only myself and the Cranes.
3. Describe your feelings after capturing and experiencing this wonderful birding moment.
I was delighted to see the family come strolling down the grassy path towards me. They were moving quite slowly, which made for some great photographic opportunities, and also gave the chance to put down the camera for a moment and enjoy the family. It is incredible to watch these large birds with giant beaks be so gentle with their colts.
4. Do you often photograph birds, and if you do, what do you enjoy most about bird photography?
I photograph birds quite often; it's one of my favorite things to do. What I enjoy most about bird photography is that by observing and focusing on birds, I feel refreshed and recharged by the beauty and wonders of nature. There is always something to see in the outdoors, and I am always learning more about our feathered friends.
5. What advice would you give others who'd like to capture amazing bird photos like yours?
One thing I almost always try to do is shoot at eye level. Sometimes it requires laying on the ground, but it can be worth it.
6. What's been your best birding experience so far?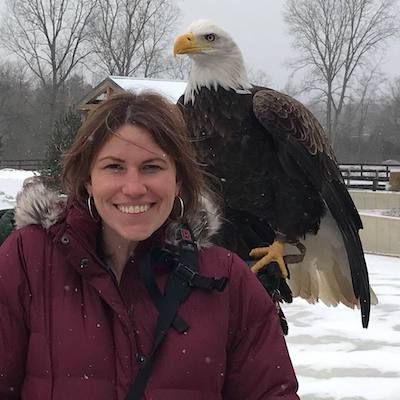 I am having a hard time choosing a favorite! I will go with a story of my favorite bird, the Tufted Titmouse. I was watching a White-breasted Nuthatch scooting across a branch when a Tufted Titmouse landed right behind the Nuthatch and called very loudly. This startled the Nuthatch and caused him to fall off the branch, and the Tufted Titmouse watched the whole thing very closely. It seemed not very nice of the Tuftie but it was comical to watch.
7. Please tell us what you enjoy most about BirdNote!
I love how BirdNote showcases such a variety and depth of interesting information!
Learn more about Sandhill Cranes on BirdNote Daily:
Sandhill Cranes Wait Out the Storm
The Mississippi Sandhill Crane Makes a Comeback
Leaping with Sandhill Cranes