Image: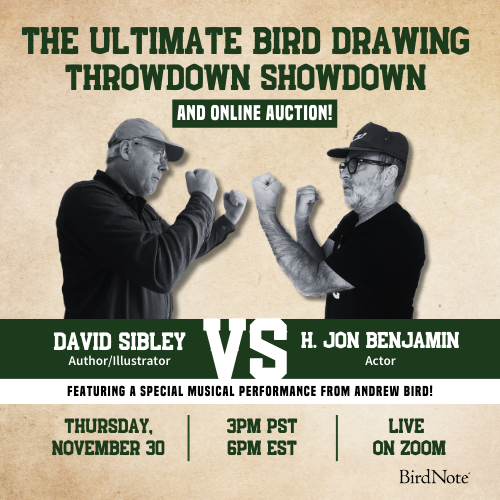 Join BirdNote tomorrow, November 30th!
Illustrator David Sibley and actor H. Jon Benjamin will face off in the bird illustration battle of the century during BirdNote's Year-end Celebration and Auction!
BirdNote is thrilled to share that a new season of our Bring Birds Back podcast is premiering on Wednesday, May 17! 
Bring Birds Back is hosted by Tenijah Hamilton, who through interviews with experts and bird enthusiasts, helps listeners understand how we can all help birds through simple, everyday actions. 

Season four is an eight-part series that will be released weekly beginning Wednesday, May 17. The central theme of this season is the impact that humans have on birds. These episodes challenge the idea of zero-sum mentalities — the notion that for one group to win, another group has to lose. The season also explores how birds touch the lives of so many, and shares some fascinating initiatives from people across generations who are helping our feathered friends.

The North American bird population has declined by nearly 3 billion birds since 1970. But the good news is promising solutions are within reach. Season four features interviews from notable public figures in conservation like Corina Newsome and Bill McKibben. Tenijah introduces listeners to fascinating initiatives including the Sustainability in Prisons Project in Washington State and an innovative A.I. technology that protects birds from wind turbines.

Bring Birds Back is a relatable, playful show with a serious heart and a curious host. In season four, listeners return on their journey with Tenijah as she explores the joy of birds and the profound impact that humans and birds have on each other. The Cornell Lab of Ornithology is the official sponsor of Bring Birds Back season four.
Catch up on earlier Bring Birds Back seasons here!
Photo of Tenijah Hamilton by Tasnia Malek