Image: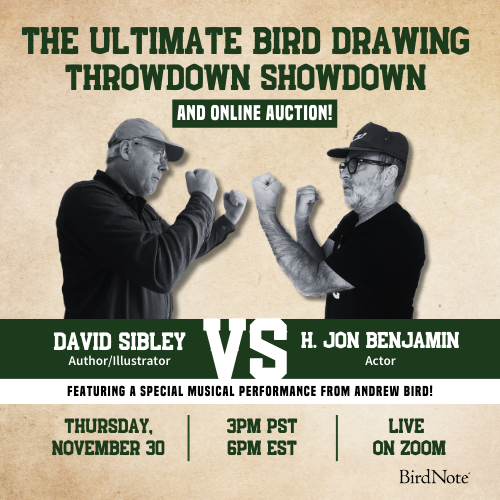 Join BirdNote tomorrow, November 30th!
Illustrator David Sibley and actor H. Jon Benjamin will face off in the bird illustration battle of the century during BirdNote's Year-end Celebration and Auction!
In the Looney Tunes cartoon, the Road Runner is potential prey for Wile E. Coyote. But in the real world, the Greater Roadrunner is an excellent predator. BirdNote contributor Alex Chadwick visited Mark Flippo, a retired park ranger at Big Bend National Park, to learn more about the behavior of these fascinating birds.
Funding for the BirdNote series on Big Bend National Park comes from Deedie and Rusty Rose.
BirdNote®
Alex Chadwick at Big Bend - The Roadrunner and the Baird's Sparrow
Mary McCann: Big Bend National Park is a haven for birds both common and rare, as Alex Chadwick found out on a recent visit to the park.
AC: We're on a dirt and gravel road in a place called Dug Out Wells. I'm looking for birds with a guide.
MF: I'm Mark Flippo, I live in Terlingua, Texas. Did you hear that? Mnn. Mnn. Mnn. That's the roadrunner.
MF: Roadrunners. I'll tell you a roadrunner story. A number of years ago, I was leading a birding program for the public. We were right down there at Rio Grande Village, and there were a bunch of sparrows that were in there…five, six different species. And there was one odd sparrow in there. And I looked at it, and I was so surprised, "Wow! That's a Baird's Sparrow!" A Baird's sparrow is a very rare, declining species.
And then, out of the corner of my eye, I see movement on the ground, and here comes the roadrunner. And all the other sparrows jump…when this roadrunner comes in. Except the Baird's. The Baird's has its head down. And it was ... [snap of fingers] – that fast. The roadrunner… snags this Baird's Sparrow. There's, like, 100 sparrows in there. And it picks the one, the rarest sparrow.
And, I see a guy; he's got his camera. And, I say, "Photograph that, quick, quick!" because back then, it was a review species in Texas.
AC: Meaning, it's rare, and if you see one, you're supposed to get a picture.
MF: So, he snaps a picture.
AC: The Texas Bird Records Committee certified that the bird in the photo – the dead one – was a Baird's Sparrow, and added that this was the first time the committee had ever certified a photo of a rare bird that was being eaten.
For BirdNote, this is Alex Chadwick.
###
Funding for the BirdNote series on Big Bend National Park comes from Deedie and Rusty Rose.
###
Written and presented by Alex Chadwick
Original piece produced by Katie Davis
Original field recording and mixing by Flawn Williams
Short version of story re-produced and re-mixed by John Kessler
Executive Producer Dominic Black
© 2014 Tune In to Nature.org      November 2018
ID# chadwicka-roadrunner-01-2014-11-11