Image: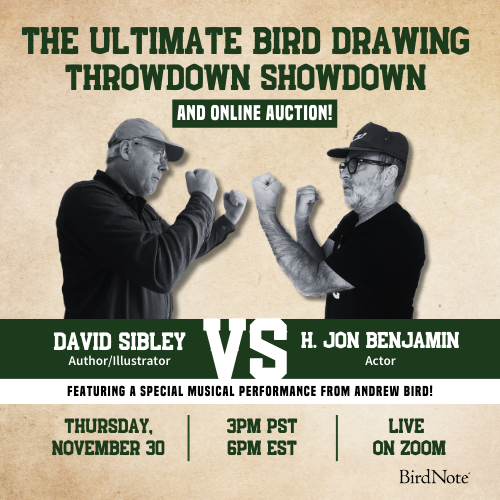 Join BirdNote tomorrow, November 30th!
Illustrator David Sibley and actor H. Jon Benjamin will face off in the bird illustration battle of the century during BirdNote's Year-end Celebration and Auction!
The American Dipper stands on a rock in a stream, bobbing up and down on its long legs - "dipping" - hence the name. But watch! This nondescript bird steps off a small boulder right into the torrent, and begins to peer under water. What the American Dipper might lack in bright color it more than surpasses with amazing aquatic abilities. Watch the video of a dipper fighting the current – below. You can learn more about river restoration and protection at American Rivers.
BirdNote®
The Amazing Aquatic American Dipper
Written by Bob Sundstrom
This is BirdNote!
[Song of the American Dipper and rushing water]
This brilliant song, ringing out over a rapidly rushing western stream, belongs to an American Dipper.
  [Song of the American Dipper]
A songbird the color of wet, gray stones, the dipper looks like a large, chubby wren – or perhaps a gray robin with a very short tail. Standing atop a large stone, it bobs up and down on its long legs – "dipping" – hence the name.
But watch this nondescript bird a moment: it steps off a small boulder right into the torrent, and begins to peer under water. Then raising its head, it blinks, showing white-feathered eyelids. Soon it is swimming in the stream, paddling with its feet. Suddenly it dives — and holds its place under water with its short, strong wings — against a coursing flow that would knock a person right over. Just as briskly, it pops back up on a small boulder, and — using its bill — begins to hammer the casing of a tasty caddis fly larva it just picked off the stream bottom.
What the American Dipper might lack in bright color it more than surpasses with amazing aquatic abilities. It's the only aquatic songbird in North America.
[Song of the American Dipper]
[Sound of rushing water]
BirdNote is grateful to all who are working to keep our rivers and streams clean and free-flowing. Learn more at BirdNote.org. I'm Mary McCann.
###
Bird sounds provided by The Macaulay Library at the Cornell Lab of Ornithology, Ithaca, New York. Recorded by G.A.Keller. Stream ambient recorded by C. Peterson.
Producer: John Kessler
Executive Producer: Chris Peterson
© 2014 Tune In to Nature.org          August 2016/2021 September 2023  Narrator: Mary McCann
ID#AMDI-01b-2021-8-8    AMDI-01b