Image: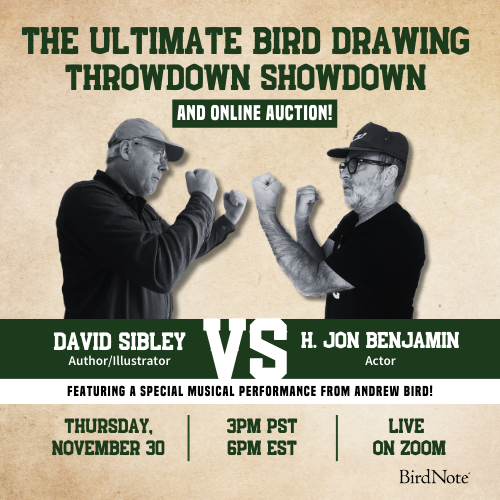 Join BirdNote tomorrow, November 30th!
Illustrator David Sibley and actor H. Jon Benjamin will face off in the bird illustration battle of the century during BirdNote's Year-end Celebration and Auction!
The raucous laughter of the Common Murre rings out from a nesting colony, high on a narrow ledge on a sea cliff. Precarious as their nest site is, Common Murres nest by the thousands along the Pacific Coast, perhaps millions north along the Bering Sea. Their eggs are pointed at one end and blunt at the other, so they spin on the ledge rather than tumbling into the sea. Common Murres stand nearly a foot and a half tall. With legs set far back on their bodies, they look much like the northwestern equivalent of penguins of the Southern Hemisphere. Watch a video of a colony!
BirdNote®

Common Murres – Nature's Laugh Track

Written by Bob Sundstrom

This is BirdNote!
[Common Murres calling from a cliff ledge]
Does this raucous laughter sound a little deranged, as it rings out above the crash of ocean waves? The voices belong to birds, to a nesting colony of Common Murres, standing on narrow ledges high on the steep face of a sea-cliff.
Precarious as their nest site is, Common Murres nest by the thousands along the Pacific Coast, perhaps millions north along the Bering Sea.
[Calls of Common Murres]
The chocolate-brown murres stand nearly a foot and a half tall, on legs set far back on their bodies. Add to this their sharply pointed bills, and murres look much like the northern equivalent of penguins of the Southern Hemisphere.
Their eggs are specially shaped to survive a narrow cliff ledge. Shaped like a pear, the single, large, blue egg is pointed at one end and blunt at the other, so it spins on the ledge rather than tumbling into the sea below.
The Common Murre's guttural call carries well over the roar of the waves, a natural laugh track, far richer than human laughter canned for a sitcom.  
[Human sitcom laughter, followed by murres calling]
Make a virtual visit to a nesting colony of Common Murres, on our website, BirdNote.org. I'm Michael Stein.
[Common Murres calling]
###
Calls emanating from a nesting colony of Common Murres recorded by Bob Sundstrom.
Producer: John Kessler
Executive Producer: Chris Peterson
© 2011 Tune In to Nature.org      June 2011/2016/2021     Narrator: Michael Stein
ID#052005COMUKPLU   COMU-01b