Image: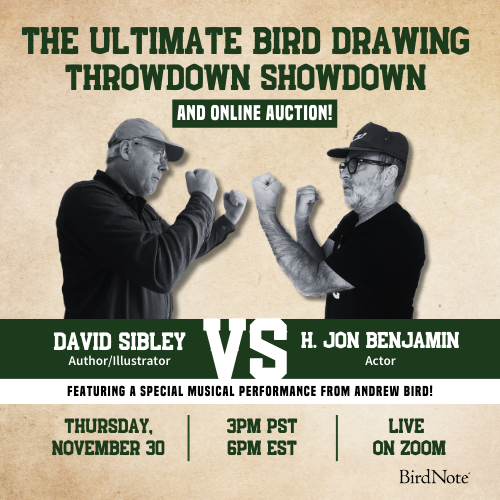 Join BirdNote tomorrow, November 30th!
Illustrator David Sibley and actor H. Jon Benjamin will face off in the bird illustration battle of the century during BirdNote's Year-end Celebration and Auction!
Throughout history, the Japanese have viewed the crane as a symbol of good fortune. Because cranes mate for life, they also represent fidelity and honor. Visit SavingCranes.org, to learn more about the International Crane Foundation and the fight to save the Japanese Red-crowned Crane. Music in this episode courtesy of Duo En.
BirdNote®
The Crane Wife

Written by Ellen Blackstone
This is BirdNote!

From Japanese folklore comes the tale of "The Crane Wife."

[Koto music: "Winter Cranes" by Duo En]

Long ago, a poor man found an injured crane and nursed it back to health. Not long after the crane took wing again, a beautiful young woman appeared at the man's door, and she became his wife.
The woman wove beautiful cloth, which the man sold in the village, and they prospered. She asked only that he never watch her as she wove, and he agreed. Again and again she wove, and the man kept his promise never to watch her at work, and they were happy together. [Koto music]

But one night, curiosity got the better of the man, and he opened the door to take a peek. To his surprise, he saw a crane at the loom!
Betrayed, the crane-wife flew away [Red-crowned Crane]. The man was left alone and with no livelihood, because he failed to keep his promise.
[Koto music]

Throughout history, the Japanese have viewed the crane as a symbol of good fortune. Because cranes mate for life, they also represent fidelity and honor. [Koto music]
Many of the world's cranes are endangered. Learn more about crane conservation in the United States and elsewhere. Begin with a visit to our website, BirdNote.org. I'm Michael Stein.

###

Audio of the Red-crowned Crane provided by Borror Laboratory of Bioacoustics, Department of Evolution, Ecology, and Organismal Biology, Ohio State University, Columbus, OH, all rights reserved.
Winter Cranes performed and composed by Duoen. Winter Cranes, 2006. www.duoen.com
BirdNote's theme music was composed and played by Nancy Rumbel and John Kessler.
Producer: John Kessler
Executive Producer: Chris Peterson
© 2016 Tune In to Nature.org   February 2012/2016/2020   Narrator: Michael Stein
ID#022707cranewifeKPLU       cranewife-01b-2010-02-21-MS