Image: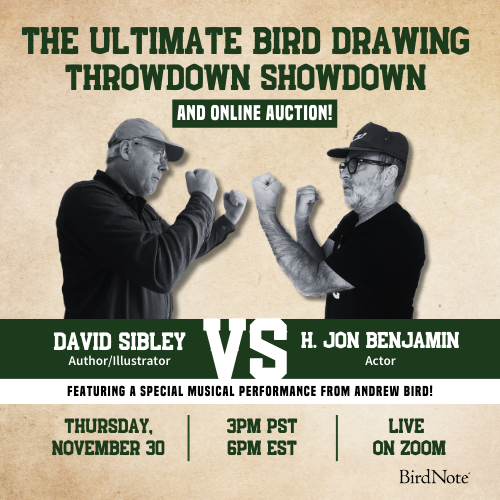 Join BirdNote tomorrow, November 30th!
Illustrator David Sibley and actor H. Jon Benjamin will face off in the bird illustration battle of the century during BirdNote's Year-end Celebration and Auction!
Sharp-shinned Hawks are swift, bird-catching predators. The male is jay-sized. The female stands a head taller and weighs almost twice as much. Female birds of prey are most notably bigger than males among hawk species that hunt very agile prey, such as other birds. The smaller male will tend to hunt smaller prey. The female takes somewhat larger prey, so together they can tap a wider range of resources.
Sign up for weekly preview email. Subscribe to the podcast.
BirdNote®
Sizing Up Sharp-shinned Hawks
Written by Bob Sundstrom
This is BirdNote!
[Calls of Sharp-shinned Hawks]
A mated pair of Sharp-shinned Hawks – swift, bird-catching predators – perch side by side, slender, dashing, gray and rufous hawks. The male is jay-sized, just over 10 inches from the top of his head to the tip of his tail. The female, however, stands a head taller and weighs almost twice as much.
[Repeat calls of Sharp-shinned Hawks]
This seems odd. In most birds – if the sexes vary at all in size – the male is larger. But with many hawks and falcons, the pattern is reversed. And female birds of prey are most notably bigger than males among hawk species that hunt very agile prey, such as other birds, like this unfortunate House Finch. [House finch screaming]
Why is this so? Perhaps the female Sharp-shinned Hawk's larger size ensures that she may safely dominate the male through courtship and nesting – with a mate who is, after all, a highly aggressive bird-hunter. The smaller male will tend to hunt smaller prey. The female will take somewhat larger prey, so together they can tap a wider range of resources, including this unfortunate Douglas Squirrel.   [Alarm call of a Douglas squirrel]
Despite his smaller size, the dapper male is a good provider. Early in nesting, while the female concentrates on incubating the eggs and then brooding the hatchlings, the male does most of the hunting.
[Repeat calls of Sharp-shinned Hawks]
Sign up for weekly preview emails and subscribe to the podcast, too. It's all on our website, BirdNote.org.
###
Calls of the birds provided by The Macaulay Library of Natural Sounds at the Cornell Lab of Ornithology, Ithaca, New York. Sharp-shinned Hawk recorded by G.A. Keller.  Distressed House Finch recorded by G. Vyn.
Ambient mature forest and Douglas Squirrel recording by C. Peterson.
Producer: John Kessler
Executive Producer: Chris Peterson
© 2012 Tune In to Nature.org      February 2012     Narrator: Mary McCann
ID# SSHA-02-2010-02-02-MM    SSHA-02b