Image: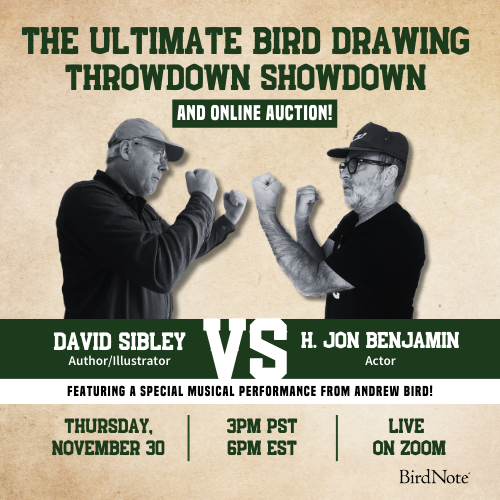 Join BirdNote tomorrow, November 30th!
Illustrator David Sibley and actor H. Jon Benjamin will face off in the bird illustration battle of the century during BirdNote's Year-end Celebration and Auction!
The Canyon Wren makes its home on the steep rocky outcrops and vertical stone cliffs of the coulees and mesas of the West. The birds are found from Mexico all the way through southern British Columbia. They live among the rocks all year long, nesting in rock piles and beneath overhangs, their songs bouncing off the sheer rock faces.
We thank the individuals who underwrite BirdNote. If you'd like to make a gift, begin here.
BirdNote®   
The Song of the Canyon Wren
Written by Bob Sundstrom

This is BirdNote.

[Canyon Wren song]

The song of the Canyon Wren in the American West. It's a cascade of silvery, whistled notes—what a musician calls a glissando.

[Canyon Wren song]

The Canyon Wren makes its home in steep, rocky outcrops and vertical stone cliffs. The birds are found from Mexico all the way through southern British Columbia. They live among the rocks all year long, nesting in rock piles and beneath overhangs.

[Canyon Wren calls]

Rusty-brown feathers give the wren superb camouflage against the rocks. And its long, slender bill and flattened crown are ideally shaped for probing into deep crevices for insects and spiders.

[Canyon Wren calls, https://macaulaylibrary.org/asset/70322771, 0.14-.16]

With their relatively large feet and strong, curved, sharp claws, they can clamber up or down sheer rock faces or even cling upside-down to the ceiling of a cave.

[Canyon Wren song]
    
But it's the brilliant song of the Canyon Wren that most people remember best — a song perfectly suited to echo across the stony realms it calls home.

[Canyon Wren song, https://macaulaylibrary.org/asset/103491201, 0.21-.27]

For BirdNote, I'm Mary McCann.

###

Producer: John Kessler

Managing Producer: Jason Saul

Editor: Ashley Ahearn

Associate Producer: Ellen Blackstone

Assistant Producer: Mark Bramhill

Narrator: Mary McCann
 
Bird sounds provided by The Macaulay Library of Natural Sounds at the Cornell Lab of Ornithology, Ithaca, New York. Recorded by Bob Nieman, Paul Marvin and Manuel Grosselet.

BirdNote's theme composed and played by Nancy Rumbel and John Kessler.

© 2019 BirdNote   June 2019 / January 2023

ID# 053006CAWRKPLU (053006CANWKPLU)             CANW-01b