Image: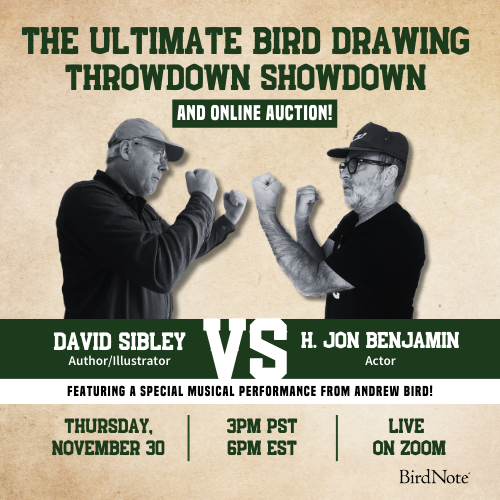 Join BirdNote tomorrow, November 30th!
Illustrator David Sibley and actor H. Jon Benjamin will face off in the bird illustration battle of the century during BirdNote's Year-end Celebration and Auction!
The White-crowned Sparrow pours out its song over and over on spring and summer days-and even on moonlit nights-often up to 15 times a minute. Now here's a curious thing: Just as people in different regions may have different dialects, White-crowns have different songs, according to where they live. Find more at the Macaulay Library.
BirdNote®
White-crowned Sparrow
Adapted from a Script by Frances Wood
 
This is BirdNote.

["See me, pretty, pretty me" song of the White-crowned Sparrow]

This is the song of a White-crowned Sparrow. Some describe it as "See me, pretty, pretty me-e."

[Repeat song of White-crowned Sparrow]

The White-crowned Sparrow pours out its song over and over on spring and summer days—and even on moonlit nights. The buzzy song seems to float on the air in much of the western United States.

At first, you might think this sparrow is just another "little brown bird." But the elegant black-and-white stripes on its head make this bird stand out.

[Repeat song of White-crowned Sparrow]
hh
Now here's a curious thing: Just as people in different regions may have different dialects, White-crowns have different songs. Here's a White-crown from Washington State...

[White-crowned Sparrow Washington State song]

And now, another, 300 miles away in Oregon.

[White-crowned Sparrow Oregon song]

Quite a difference, don'tcha think? Once more—one [Washington State song], and now the other [Oregon song].

Regional dialects arise because young White-crowned Sparrows may learn their songs from birds other than their parents. Slight variations get copied, until all the birds in that territory are singing the new version of the song. It's like the old game of telephone. The song changes bit by bit, as it moves along.

Listen to more dialects at BirdNote.org. I'm Mary McCann.

###
Producer: John Kessler
Managing Producer: Jason Saul
Editor: Ashley Ahearn
Associate Producer: Ellen Blackstone
Assistant Producer: Mark Bramhill
Narrator: Mary McCann
Song of the White-crowned Sparrow in Puget Sound recorded by F. Bonier, Seattle, WA. Song of the White-crowned Sparrow in Oregon by R.S. Little, and provided by the Macaulay Library at Cornell Lab of Ornithology, Ithaca, NY.
BirdNote's theme was composed and played by Nancy Rumbel and John Kessler.
© 2019 BirdNote   June 2019 / April 2023
ID#    WCSP-03b-2019-6-8       WCSP-03b