Image: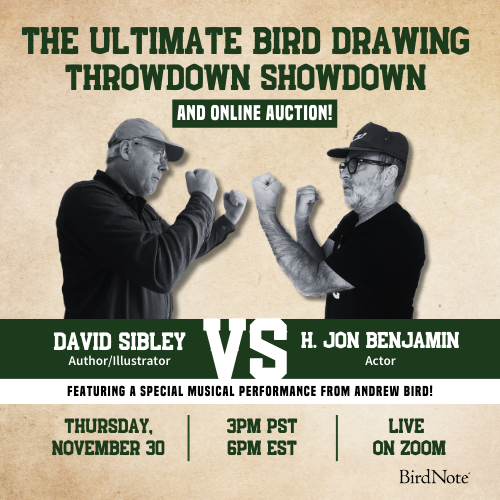 Join BirdNote tomorrow, November 30th!
Illustrator David Sibley and actor H. Jon Benjamin will face off in the bird illustration battle of the century during BirdNote's Year-end Celebration and Auction!
We're happy to offer our longform podcasts free of charge. Questions? Please reach out to us at [email protected]. 
BirdNote en español
Threatened Season 3: Hawai'i
Bring Birds Back Season 2
Bring Birds Back Season 1
Threatened: Season 2
Threatened: Season 1
Grouse
Sound Escapes Season 2
Earth Day 2020: The 50th Anniversary (10:46)
In the Clear: The Problem with Birds and Glass (24:47)
Rachel Carson and the Veery (25:31)
Wingspan Takes Flight (5:27)
A Conversation with Dr. J. Drew Lanham: Finding Home in Nature (37:18)
Sound Escapes Season 1