Image: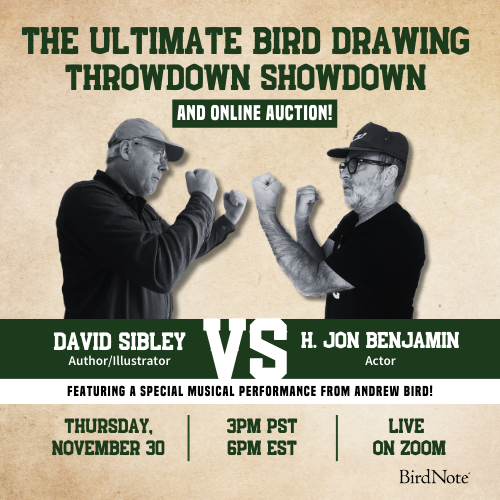 Join BirdNote tomorrow, November 30th!
Illustrator David Sibley and actor H. Jon Benjamin will face off in the bird illustration battle of the century during BirdNote's Year-end Celebration and Auction!
It would be pretty cool to be this bird because it can wear a hood and not be threatened or persecuted or profiled for wearing it. It can be perfectly at home where it is being who it is, without, in my mind, worrying about being a bird. It's fully being itself in its habitat now.
-Dr. J. Drew Lanham
Black Birders Week 2021

The second annual Black Birders Week is May 30 through June 5. This event invites more Black folks to learn about birding, which has historically been very white.
As the week progresses, the BirdNote team will add #BlackBirdersWeek stories, interviews, and other resources for you to explore. To kick off the celebration, BirdNote's Tenijah Hamilton, host of the Bring Birds Back podcast, speaks to graduate student Sheridan Alford about how to lift up Black people in the bird world. Check it out.
Here is this year's schedule of events:
Image:
Learn more about how to participate on Black AF In STEM's website!

Black Birders Week 2020

BirdNote salutes Corina Newsome and co-organizers of the first #BlackBirdersWeek for raising awareness of the racism experienced by Black birders — and encouraging diversity in birding and conservation. "Diversity is important for the robustness of any community trying to do anything," she says in an interview with Audubon.
Corina invites everyone to "show the world, especially the next generation of young Black birders and nature enthusiasts, that we exist, that they are welcome, and that this space belongs to them, too."
Take some time to explore the dialogue that emerged during Black Birders Week, and let's work for change.
Birding While Black: A Candid Conversation
If you missed these discussions with young Black birdwatchers and special guests Christian Cooper and J. Drew Lanham, we encourage you to listen now:
Read the Twitter posts with these hashtags:
For the latest #BlackBirdersWeek news, follow @BlackAFinSTEM on Twitter.

Learn more:
Watch The Falconer: a documentary film about the healing power of nature featuring nationally recognized Black master falconer Rodney Stotts.
It's Time to Build a Truly Inclusive Outdoors
The Joys and Challenges of Exploring Nature While Black
The Importance of Black Birders Week and Its Lasting Impact
Five Key Lessons To Take Home From The First #BlackBirdersWeek
#BlackBirdersWeek Organizer Shares Her Struggles as a Black Scientist
Black Birders Call Out Racism, Say Nature Should Be for Everyone
Black Birders Week Promotes Diversity and Takes on Racism in the Outdoors
These Black Nature Lovers Are Busting Stereotypes, One Cool Bird at a Time
Activists Launch Black Birders Week Event On Social Media
Gain more insight from Dr. J. Drew Lanham, BirdNote board member emeritus: