Image: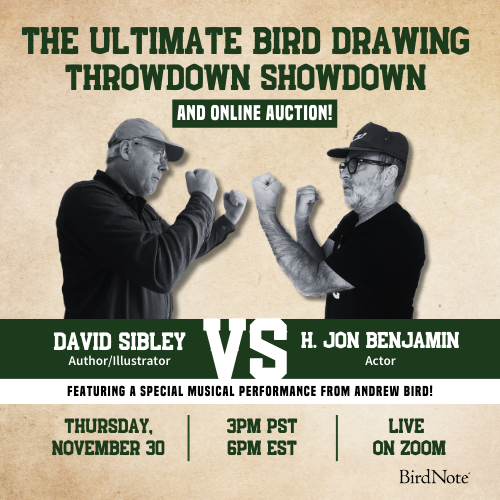 Join BirdNote tomorrow, November 30th!
Illustrator David Sibley and actor H. Jon Benjamin will face off in the bird illustration battle of the century during BirdNote's Year-end Celebration and Auction!
Deja Perkins is a PhD student in Geospatial Analytics at the Center for Geospatial Analytics at North Carolina State University. With a background in urban ecology, Deja currently investigates data gaps of large scale participatory science datasets within cities. She is an advocate for people exploring nature in their neighborhoods, and using citizen science to learn about science and nature. While her research interests primarily center on urban bird ecology, she explores the connections between citizen science, birding as a recreational hobby, and environmental injustice in the form of greenspace/nature access and joy in the outdoors. Originally from Chicago, she has seen first-hand how access to nature and exposure to wildlife and environmental programs can differ in different parts of the city, specifically within minority neighborhoods, which drives her belief that location matters, even within the city. She believes that by exposing people, especially Black youth and young adults, to the natural sciences and the wonders of the outdoors, it will encourage them to pursue natural science careers, enjoy outdoor activities and become stewards of the environment.
Browse shows that Deja has contributed to.