Image: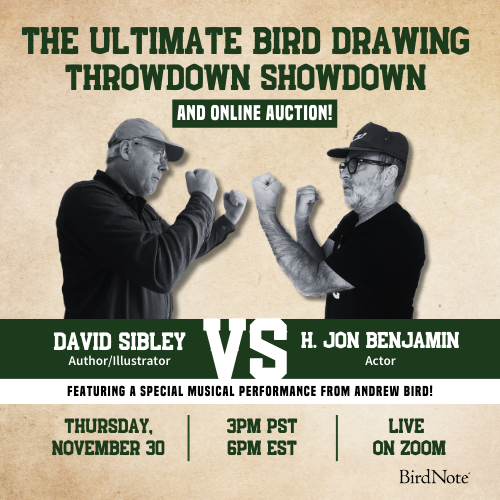 Join BirdNote tomorrow, November 30th!
Illustrator David Sibley and actor H. Jon Benjamin will face off in the bird illustration battle of the century during BirdNote's Year-end Celebration and Auction!
Science Advisor
We're sad to share the news that Idie Ulsh passed away in June 2015.
Idie Ulsh, Master Birder and former president of Seattle Audubon, a birder for 40 years, with an expertise in birdsong – A freelance photographer, Idie took the photo of a Marsh Wren, which was the inspiration for the illustration of BirdNote's mascot, Marty the Marsh Wren. Idie's interest expanded from birds to other flying creatures, including butterflies and dragonflies, and she was co-editor of photographs for The Butterflies of Cascadia. She was the founder and past president of the Washington Butterfly Association, and taught classes for both WABA and Seattle Audubon. Idie traveled widely to feed her birding and butterflying habit and took photographs everywhere she went.
She will be missed.