Image: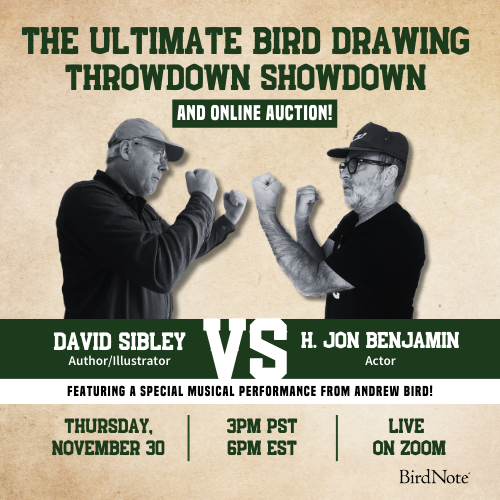 Join BirdNote tomorrow, November 30th!
Illustrator David Sibley and actor H. Jon Benjamin will face off in the bird illustration battle of the century during BirdNote's Year-end Celebration and Auction!
Ingrid writes of herself:
I'm a researcher for a bestselling author and also a freelance writer. My volunteer work in wildlife rehabilitation fueled my passion for photography, and my method is self taught, an ongoing curriculum. My lifelong engagement with animals continues to form my creative and visual narrative.

I was born in the States and spent formative early years as an expat in Geneva and Amsterdam -- which makes me a bit of a misfit and a hybrid on either continent. Nature has been my constant. I've never outgrown my geekiness about flora and fauna, even as I juggle my love for city, cinema and coffee houses. I aspired to veterinary school before I finally admitted that word patterns made sense in my brain, whereas mathematical formulas did not. It was my conservation and resources classes at UC Berkeley that set into motion an evolution of spirit. They introduced me to an entirely new canon of ecological works and authors, and formed my environmental understanding from that point forward.

The well-being of my animal subjects -- both wild and domestic -- is more important to me than any image. That principle guides my photography. I use the North American Nature Photography guidelines as a model, doing my best not to disrupt natural behavior. I don't bait or call animals, and all of my images are taken with natural light, no flash. My preferred method, wherever possible, is to set up at a distance from the animals and remain as unobtrusive as possible. Many times, patience is rewarded with animals like shorebirds growing accustomed to my presence and tolerating some clicks of my shutter.