Image: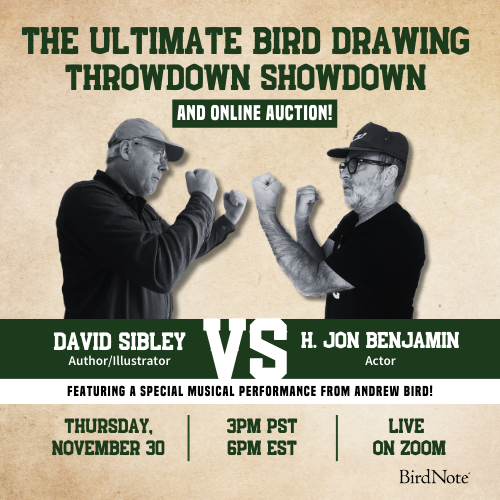 Join BirdNote tomorrow, November 30th!
Illustrator David Sibley and actor H. Jon Benjamin will face off in the bird illustration battle of the century during BirdNote's Year-end Celebration and Auction!
Lauren D. Pharr is an avian ecologist and Ph.D. student at North Carolina State University (NCSU) pursuing her degree in Fisheries, Wildlife, and Conservation Biology. Her current research focuses on studying the effects of climate change on reproductive success in the federally endangered Red-cockaded Woodpecker. She earned her B.S. degree in Environmental Biology from Wingate University in 2019 and her M.S. degree in Fisheries, Wildlife, and Conservation Biology from NCSU in 2021. Aside from her research, Lauren is an engaged science communicator and serves as a contributing editor for North Carolina Sea Grant, and is also a member on the Editorial Advisory Board for The Wildlife Society. She has written and contributed pieces to a variety of outlets including National Geographic, BBC Wildlife, WIRED and eBird. Lauren is also an advocate for Black and historically excluded minorities in STEM; she serves on multiple committees including NCSU's Forestry and Environmental Resources' Diversity, Equity, and Inclusion committee, and is the co-founder of the nonprofit, Field Inclusive. She currently resides in Raleigh, North Carolina.