Image: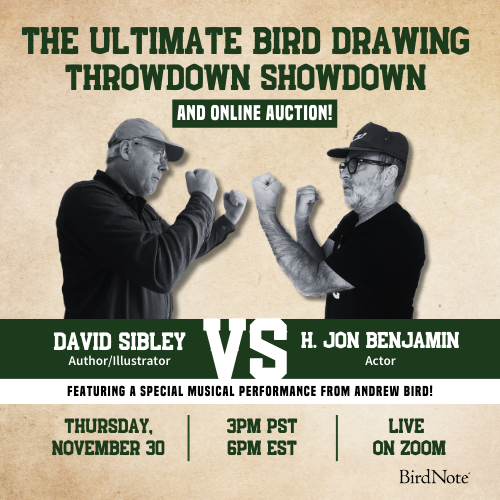 Join BirdNote tomorrow, November 30th!
Illustrator David Sibley and actor H. Jon Benjamin will face off in the bird illustration battle of the century during BirdNote's Year-end Celebration and Auction!
Volunteers
Lynne Jensen writes: "I am such a lucky person – My husband, George, and I live in two of the most beautiful places in the world, Gustavus, Alaska (near Glacier Bay National Park), and Whidbey Island, Washington."
They retired from teaching in Alaska and, while in Gustavus, live in a one-room log cabin, which Lynne built.  They often run into bears or moose on their way to the outhouse. In Alaska, they volunteer for Friends of Glacier Bay and the Gustavus Public Library. After moving to Whidbey, they discovered BirdNote while listening to KPLU. At a potluck in the area, they were delighted to meet executive producer Chris Peterson and offered their services.
Lynne does office work once a week, and George "moves heavy objects" for special events. They say that BirdNote has taught them so much about birds and their environment, and they're happy to help out in their small way.
In this photo, George and Lynne are in Alaska, hiking the Nagoonberry Trail