Image: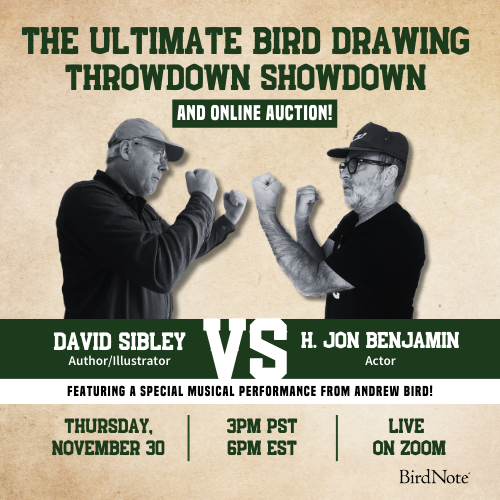 Join BirdNote tomorrow, November 30th!
Illustrator David Sibley and actor H. Jon Benjamin will face off in the bird illustration battle of the century during BirdNote's Year-end Celebration and Auction!
Monica Gokey is a science writer and radio journalist from west-central Idaho. Her work has aired on public radio stations throughout the West and Alaska, and on podcasts like Out There, Outlandish and Gravy. She teaches science communications at the University of Idaho's McCall Field Campus.

Monica's fascination with birds started in her early 20s when she was kayaking the Grand Canyon. After pulling over to camp one day, she staked her claim on a campsite by tossing her black dry bag on it. After an hour or so of exploring camp, she returned to find her dry bag gone. It'd been dragged several meters away, and her clothes were strewn about. She later saw the offending ravens perched nearby. They'd opened a front zipper on the dry bag and pecked through the thick, waterproof material to pull out several pieces of clothing before realizing there was no garbage inside.

When she's not writing, making radio, or admiring corvids, Monica can be found wrangling her three kids around the cattle ranch their family calls home.