Image: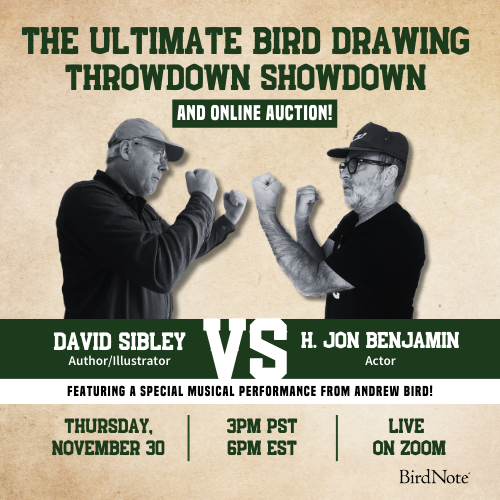 Join BirdNote tomorrow, November 30th!
Illustrator David Sibley and actor H. Jon Benjamin will face off in the bird illustration battle of the century during BirdNote's Year-end Celebration and Auction!
Patrick Comins is a graduate of Trinity College in Hartford, and has worked in the bird conservation arena for the last 15 years. Patrick has deep Yankee roots.  His family has lived in Connecticut since 1635, a legacy that strengthens his deep personal commitment to conserving the habitats and character of the state.
Patrick began his career with the Connecticut Audubon Society, doing bird surveys on the coast at the Stewart B. McKinney National Wildlife Refuge and then worked for the US Fish and Wildlife Service as a biological technician at the refuge. He has been with Audubon Connecticut as the Director of Bird Conservation for Connecticut since 2000, overseeing Connecticut's Important Bird Areas and other conservation programs. He is the principal author of Protecting Connecticut's Grassland Heritage.
Patrick is a past resident of the Connecticut Ornithological Association and was the 2007 recipient of their Mabel Osgood Wright Award. He was also formerly on the board of directors for the Hartford Audubon Society and continues to work closely with them. He has written several articles on bird conservation and identification for the Connecticut Warbler and is currently chairman and vice president of the Friends of the Silvio O. Conte National Fish and Wildlife Refuge.