Image: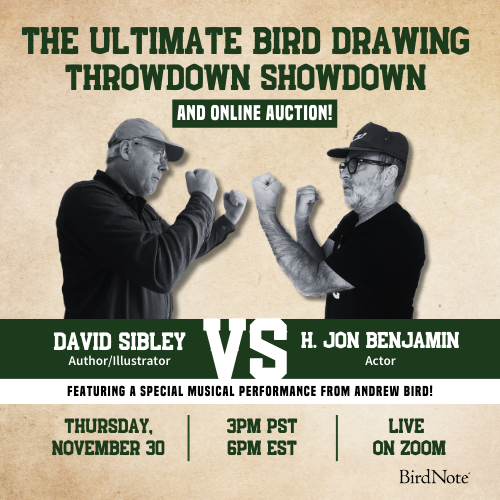 Join BirdNote tomorrow, November 30th!
Illustrator David Sibley and actor H. Jon Benjamin will face off in the bird illustration battle of the century during BirdNote's Year-end Celebration and Auction!
Phil Hauck earned a Bachelor of Science degree in Engineering from the University of Illinois at Urbana-Champaign. He spent his career with industrial products and systems, receiving broad, in-depth experience in sales, project management, material planning, purchasing, warehousing, and build-to-order manufacturing. Phil also had 17 years of international experience in China, India, Taiwan and Europe when he retired in 2016.
Phil bought his first SLR camera in 1982 in anticipation of a budding family and has since become proficient with the technical aspects of equipment and lighting. While spending most of the first 20+ years photographing family and vacations, he made the switch from film to digital format in 2005, finding a freedom without the burden of film and processing. Phil attends occasional classes and seminars covering composition and post-processing.
Phil first made efforts to capture quality bird images during 2006 thru 2008, with the many mediocre results confirming the challenge and difficulty of bird photography. Since that time, he has learned that successful bird [and nature] photography demands:
- Time (being there)
- Research on the subject(s)
- Early [sunrise] hours
- Patience and stealth
- Capable equipment
- Luck

Above all, Phil believes that ongoing practice and interacting with other photographers in the field keeps the learning and growth alive.