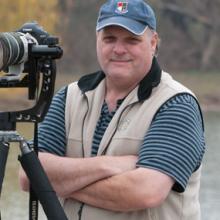 My name is Raymond James Barlow (Ray!). I was born in 1959, and I live in Grimsby, Ontario, Canada.  I owned an HVAC contracting business for 20 years, then finally closed the doors, and started full-time photography workshops and tours in 2008.
My love for cameras and photography began when I was very young. My father lent me his old black-and-white with a roll of film, maybe 12 images, for a school excursion to Toronto. Since then, I have had several cameras and lenses, taken hundreds of thousands of images, and the passion seems to grow stronger every day.
My passion for capturing birds and wildlife began at the Manila Zoo. My wife Daisy and I found the "Bird Man" there, and he had four raptors set up in a fantastic scene! I fired several hundred shots at these beautiful birds with my newly acquired 70-300 lens one day. It seems that was the turning point. I said to Daisy, "This is where I belong!" At 45 years old, I found my destiny!
From there I started to follow and participate in forums, where I met fellow nature enthusiasts Peter Darcy, and Eric Dumigan. They encouraged me to work harder, and learn!
I am self taught (with the help of a lot of friends) and continue to pursue a dream of photography as a full-time profession. I host travel tours and workshops around the world and local workshops near Toronto, Canada. We go to places like Yellowstone, Tanzania, Costa Rica, Alaska, Florida, India, and British Columbia.
I consider myself to be a creative photographer, but working towards realistic captures of nature. I do not over-manipulate my work in Photoshop or any other programs. I never use flash with nature photography, as I love to work with natural subjects and natural light, from an artistic point of view. I do not ever change backgrounds for my images or re-invent the scene in any capacity, but these are only my personal opinions. My dad always said, "To each his own."
Action photography is undoubtedly my favourite thing to do... birds in flight, animals chasing, especially hummingbirds in flight ... This is what rocks my world... so much fun! I guess it is all about challenge! We photographers love to learn, and take on some of the most difficult situations.


Browse shows that Raymond has contributed to.