Image: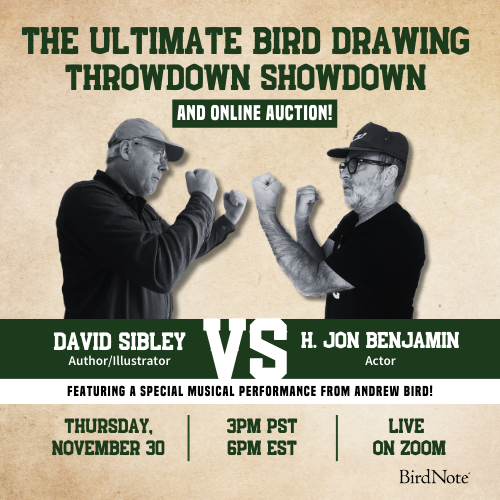 Join BirdNote tomorrow, November 30th!
Illustrator David Sibley and actor H. Jon Benjamin will face off in the bird illustration battle of the century during BirdNote's Year-end Celebration and Auction!
Rick Wright has long been fascinated by birds, birders, and birding — though not necessarily in that order.
A native of southeast Nebraska, Rick studied languages, philosophy, and life sciences at the University of Nebraska, where he worked in the ornithology collections of the state museum and served as teaching assistant to Paul Johnsgard. Following a detour to Harvard Law School, he took the Ph.D. at Princeton University in Germanic Languages and Literatures. He held successive appointments as Assistant Professor of German at the University of Illinois, Reader in Art and Archaeology at Princeton University, and Associate Professor of Medieval Studies at Fordham University. Through it all, Rick kept on birding Europe and the Americas.
Rick combines his interests and experiences in lectures, books, and articles about birds and the way we think about them. Now a leader at Victor Emanuel Nature Tours, he conducts a full program of Birds and Art tours across Europe, where nature and culture and history all come together.
"Birders see more and see better than other people," Rick observes, "and why shouldn't we turn our special vision to the whole landscape? European rollers and Roman temples both mean more when we see one against the background of the other, and there is nothing like standing in the peaceful cloister of a 900-year-old monastery while thousands of Common Cranes and Barnacle Geese fly low overhead."
When they aren't on the road seeking out new landscapes rich in birds and culture, Rick and his wife, the medievalist Alison Beringer, live in northern New Jersey with the world's best birding dog, Gellert.