Image: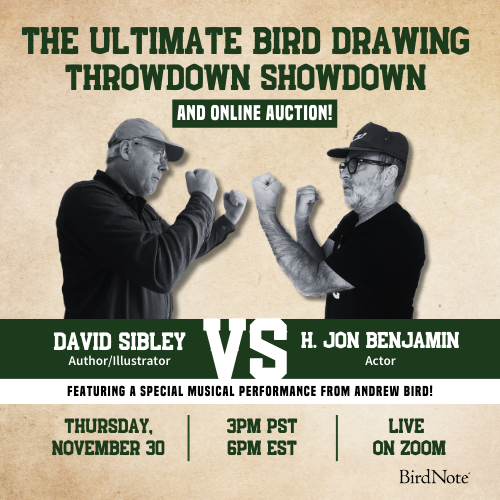 Join BirdNote tomorrow, November 30th!
Illustrator David Sibley and actor H. Jon Benjamin will face off in the bird illustration battle of the century during BirdNote's Year-end Celebration and Auction!
Last November while vacationing on Hawaii's Big Island, I had the chance to spend a day with Jack Jeffrey, a wildlife biologist, and one of Hawaii's best-known bird photographers. For some 25 years, Jack was senior field biologist for the Hakalau Forest National Wildlife Refuge. He has overseen the restoration of thousands of acres of natural forest, which is vital habitat for many of the island's native birds.
I met Jack at 6am near the Hilo harbor. After grabbing coffee and snacks, we headed up the Saddle Road, which runs between Mauna Loa and Mauna Kea, and rises to about 6,500 feet. As we drove, Jack explained that much of the original native forest had been destroyed by 150 years of cattle grazing. The Hakalau Forest Refuge has been reversing that trend by removing cattle and non-native plants, and re-planting and fencing the remaining acres.
It wasn't hard to see how the cattle grazing had terra-formed the island, as much of what we drove by was pasture and completely devoid of trees. That all changed as soon as we entered the refuge. There were still open spaces, but now we were seeing small clumps of koa and o'hia trees, standing about 25-30 feet tall.
We parked the truck and started our walk, which would take us about a mile down into the forest, at about 6,000 feet elevation. The forest got even denser as we walked. But the biggest change was that now we were hearing birds, lots and lots of them, so many that they merged into a wash of sound. Actually seeing the birds is a lot more challenging. They are mostly very small and dart around in the trees, making them very hard to spot. Using a spotting scope is not practical, as the birds are always in motion, but using binoculars we were able to catch fleeting but vivid glimpses of many of the local species, including 'Apapane, 'I'iwi, and the Hawaii Creeper.
After spending about six hours in the forest, we headed back toward Hilo as the sun was setting. Hearing Jack talk about the decades of work that have gone into making Hakalau Forest a success was quite moving. In 25 years, they have literally transformed cattle pasture into lush, native forest, where many threatened and endangered birds are now flourishing. Bird counts show that every species of bird is stable or increasing in the Hakalau Forest.
If you are planning a visit to the Big Island, think about spending a day with Jack Jeffrey and taking a trip to the Hakalau Forest Refuge.
Here's a link to their website. 
Listen to the BirdNote show about Jack, Hakalau Forest National Refuge.
Learn more about Jack Jeffrey.