Image: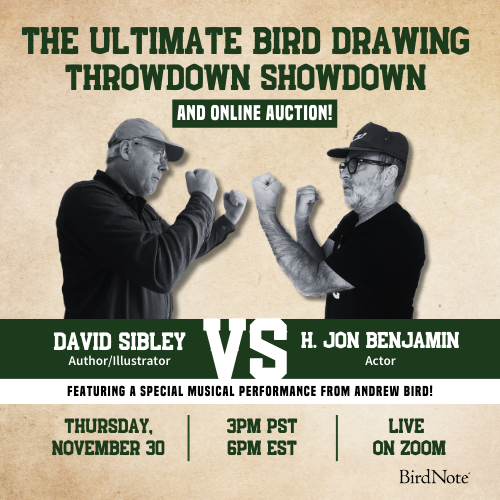 Join BirdNote tomorrow, November 30th!
Illustrator David Sibley and actor H. Jon Benjamin will face off in the bird illustration battle of the century during BirdNote's Year-end Celebration and Auction!
Can't get enough bird sounds? Enjoy a full minute of beautiful sounds of Cerulean, Golden-cheeked, Swainson's and Kirtland's Warblers, plus the Piping Plover, Lark Bunting, American Golden-Plover, Black-capped Vireo, and Olive-sided Flycatcher, recorded throughout North America, from Texas to Alaska, Newfoundland to Colorado.
Swainson's Warbler

Song and alarm call of Swainson's Warbler [LNS23827] recorded by T.A. Parker III
Cerulean Warbler

Recorded by W.L. Hershberger [LNS85100] with G.A. Keller recording in background
Golden-cheeked Warbler

Song of Golden-cheeked Warbler [LNS40561] recorded by G.A. Keller
Kirtland's Warbler

Song of the Kirtland's Warbler recorded by G.A. Keller
Olive-sided Flycatcher

Call of the Olive-sided Flycatcher recorded by T.G. Sander
Piping Plover

Call of the Piping Plover recorded by Dolly Minis
Lark Bunting

Lark Bunting recorded by G.A. Keller
Black-capped Vireo

Song of Black-capped Vireo [LNS105505] recorded by J. F. Bolsinger
American Golden-Plover

Call of American Golden-Plover [LNS137833] recorded by Gerrit Vyn

Sounds of birds provided by The Macaulay Library of Natural Sounds at the Cornell Lab of Ornithology, Ithaca, New York.
Images © Greg Lavaty