"I really want to help connect people with nature. I feel I'm doing that with my photography." – Owen Deutsch
Image: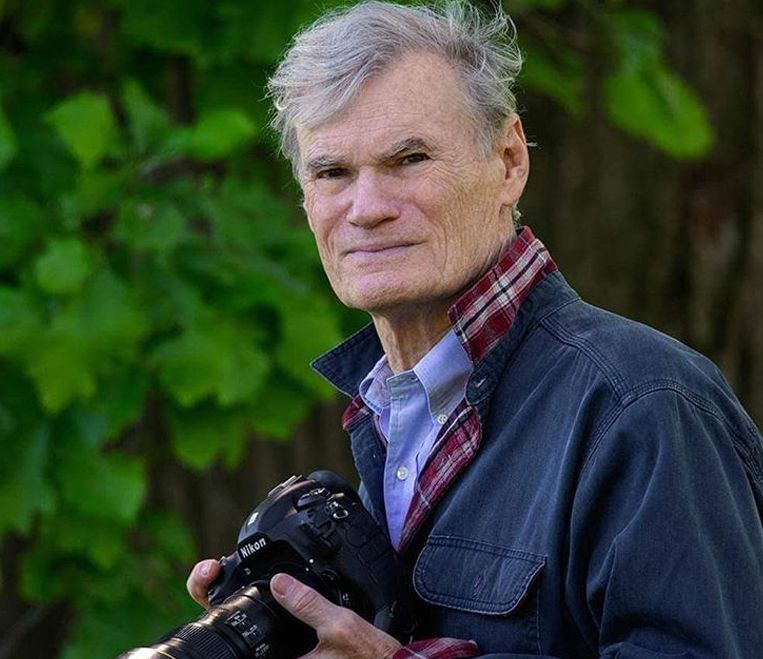 Chicago's Montrose Point Bird Sanctuary is nestled on a peninsula that extends into Lake Michigan. What began as a US Army installation in the 1950s slowly transformed into a haven for birds. According to Lake-Cook Audubon, more than 300 bird species have been recorded at the sanctuary, "including some of the rarest birds ever recorded in the state."
When the army abandoned the area in the 1970s, 15 acres of uninhabited land remained. And on it was a hedge of Japanese honeysuckle that had been planted to block the base from public view. 
Somehow, this seemingly insignificant choice created magic.
Birds started flocking to the honeysuckle. Through the 1980s and 1990s, conservationists and birding organizations worked together to protect the area and fill it with bird-friendly plants. A stretch of shrubs and trees on the west side of the sanctuary attracted so many birds during spring and fall migration that it earned the title, "The Magic Hedge."
I wanted to learn more about The Magic Hedge, so I caught up with BirdNote board member Owen Deutsch, a Chicago-based bird photographer. I was interested in what makes this hedge so magical from Owen's point of view as a photographer and  as a resident of Chicago. 
"The Magic Hedge is a magnet for all kinds of people," Owen tells me. "It's a very special place."
Owen has traveled the world to photograph birds since 2002. His website is filled with stunning images from 23 countries on five continents. His bird photography appears in Bringing Back the Birds, a book published in partnership with American Bird Conservancy, which demonstrates the beauty he's captured on camera from nearly every corner of the Earth. 
But like so many people right now, Owen is staying close to home. "My last trip was in February, just before the pandemic hit," he says. "I had to cancel my trip to the Pribilofs, and I had reservations for South Africa, where I was taking my grandchildren with me. But that's what you have to do if you want to live to fight another day." 
Since traveling the globe isn't an option right now, places that are close by are incredibly important. For people in Chicago, The Magic Hedge is a breath of fresh air and an oasis of nature sounds tucked in a huge city.
Owen believes that spending time in nature is a great strategy for developing patience. When you make the choice to step into a place like The Magic Hedge, learning to observe your surroundings quietly is the way to experience magic.
"A lot of people walk around looking for birds. If they just stood still, the birds would come to them," Owen explains. "They say, 'there are no birds here,' and walk away. Then, a minute or two later, a whole flock comes in. It doesn't make sense to be on the move constantly."
Having the patience to find that magic is a tremendous skill in itself. But for Owen, that's just the first step. The next challenge is capturing it on camera. 
"I can be seen lying flat on the ground so I'm eye level with the birds," he says. "The best pictures of birds are at eye-level. Not shooting down on them. You want to look right in their eyes." 
Owen also strives to showcase the beauty of birds and create art out of their environment. "You might see part of the bird has streaks of sunlight hitting it or the background has sparkles. That's what makes the pictures so exciting."
The variety of birds that Owen has photographed at The Magic Hedge is spectacular. His collection includes Sharp-shinned Hawks, Black-bellied Plovers, Chestnut-sided Warblers, Bobolinks, and many more. 
"I really want to help connect people with nature," Owen says. "I feel I'm doing that with my photography."
Because many North American birds are at risk, recognizing the magic in places like the Montrose Point Bird Sanctuary is one way we can help #BringBirdsBack.
Once you experience the magic, it might just pull you back like a magnet.
Related Resources
Find out what makes bird photography at The Magic Hedge truly magical
Read about The Magic Hedge on Owen Deutsch's website
Learn more about Owen's story in WTTW
Hear the BirdNote daily show about The Magic Hedge
All bird images © Owen Deutsch
Image of Owen Deutsch © Rona Talcott