Image: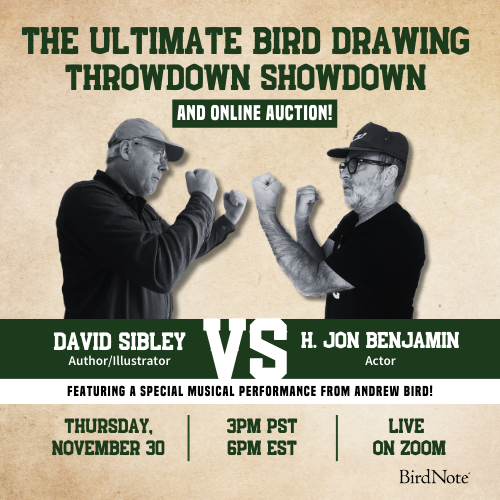 Join BirdNote tomorrow, November 30th!
Illustrator David Sibley and actor H. Jon Benjamin will face off in the bird illustration battle of the century during BirdNote's Year-end Celebration and Auction!
Shop your local farmers' markets. Buying locally helps reduce the use of energy and encourages small businesses.
Buy a share in a community-supported agriculture program.
Join or start a co-op for sharing tools, garden plants, and other resources. Share with neighbors.
Get rid of stuff rather than throwing it away by offering it on Freecycle, TrashNothing or your local "gifting" group,

or

BuyNothing, etc. If there's not such a group in your area, start one!
Go Plirding! Plirding is picking up litter while birding! Anyone can be a plirder and help make a difference for birds. Find a way that suits your birding style, and let's go plirding! (Thanks to Ray Brown's Talkin' Birds for this idea.)
Share your concerns about birds with others. Incorporate neighborhood birds into your block party, your Girl Scout or Campfire, Brownie or Bluebird, Boy Scouts, or Cub Scouts groups. Offer your expertise in birds to your local grade school, or invite your local Audubon chapter, because they're always glad to help.