Image: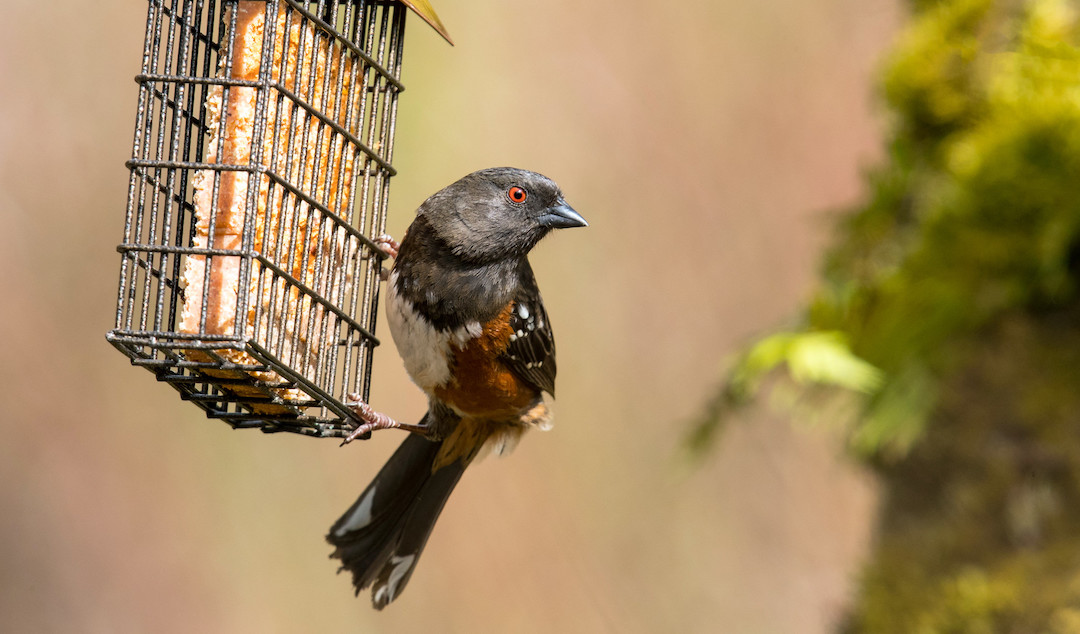 Last updated May 1, 2023.
Our birds are facing outbreaks of avian influenza, also known as bird flu. The outbreak is continuing into spring, and the number of birds that have died from avian influenza is now a record. BirdNote has compiled a list of commonly asked questions about the disease and practical things you can do to help stop the transmission of avian influenza. This is a developing story and we will update this post periodically as more information becomes available.
What is highly pathogenic avian influenza (HPAI)?
In North America, a new strain of avian influenza virus was first detected in wild birds in late 2021. Soon after, the disease spread to commercial poultry flocks. Wild birds, commercial poultry, and backyard domestic birds are all at risk of becoming infected. Most of the 50+ million birds that have died are domestic birds, however, wild birds have had a key role in spreading the disease to new areas. The strain of avian influenza currently causing outbreaks is highly contagious and easily transmitted, so it is often referred to as highly pathogenic avian influenza or HPAI.
 
How is HPAI affecting bird populations?
Not all infected birds show signs of infection, so a bird can transmit the disease while appearing healthy. However, HPAI can cause serious illness or death. HPAI has been found in over 40 species of wild birds — mostly waterfowl, other species found in aquatic habitats such as gulls and shorebirds, and raptors. In some places, large numbers of wild birds have died from HPAI. Currently, HPAI is uncommon in songbirds, although there have been confirmed cases among crows and jays.

Seabirds that breed in colonies have lost large numbers of birds to HPAI in both North America and Europe. With nests bunched close together and birds frequently moving between colonies, the spread of disease is particularly rapid for colonial nesters such as terns.

Common symptoms of HPAI in infected birds include "swimming or walking in circles, holding the head or neck in an unnatural position, the inability to smoothly rotate or tilt the head, and difficulty flying," according to Audubon Great Lakes.

Some regions have had larger outbreaks of HPAI than others — you can see a map of the distribution of avian influenza in North America from the U.S. Geological Survey of reported cases here. It's best to look for updates from local/regional authorities in your area for specific info and guidance on HPAI. 
 
Does HPAI pose a risk to people?
Transmission of avian influenza to humans is rare. Avoiding exposure to wild birds and to domestic birds that may be infected, as well as regularly cleaning bird feeders with a diluted bleach solution, can help protect people from infection. Find guidance from the Centers for Disease Control and Prevention (CDC) has shared guidelines on preventing avian flu in people here. 

How can I help protect birds?
While HPAI's effects on bird populations are very troubling, there are actions you can take to help protect birds from disease. If HPAI is reported near you, taking down birdfeeders and birdbaths can reduce the risk of transmission among your local birds. Even if HPAI is not reported near you, regularly cleaning bird feeders helps keep birds safe from several illnesses, including salmonella and conjunctivitis. Finally, sharing information about birds that appear sick or observing unexplained bird deaths with your local conservation authorities can help keep track of the disease.
Spotted Towhee © Mick Thompson
Sources
USDA APHIS | 2022 Detections of Highly Pathogenic Avian Influenza in Wild Birds
USDA APHIS | 2022 Confirmations of Highly Pathogenic Avian Influenza in Commercial and Backyard Flocks
CDC | Prevention and Antiviral Treatment of Bird Flu Viruses in People
Audubon | North American Birds Face Their Own Pandemic With Latest Bout of Avian Flu
AOS | Highly pathogenic avian influenza (HPAI): An emerging disease threat in North America
Nature | Why unprecedented bird flu outbreaks sweeping the world are concerning scientists
All About Birds | Avian Influenza Outbreak: Should You Take Down Your Bird Feeders?
WHO | Influenza (Avian and other zoonotic) Information
Avian Flu Threatens Seabird Nesting Colonies on Both Sides of the Atlantic
CDC | U.S. Case of Human Avian Influenza A(H5) Virus Reported