Image: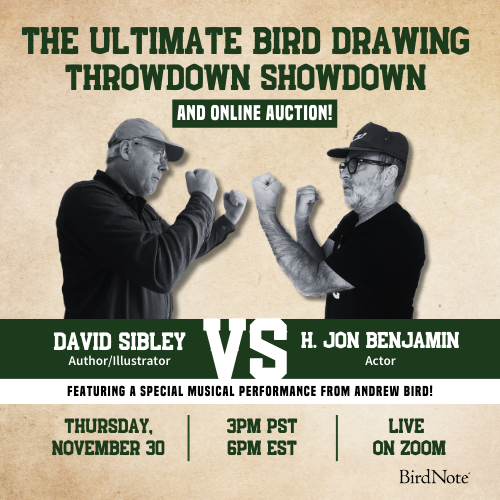 Join BirdNote tomorrow, November 30th!
Illustrator David Sibley and actor H. Jon Benjamin will face off in the bird illustration battle of the century during BirdNote's Year-end Celebration and Auction!
Image:
This essay was written by guest blogger, Meghadeepa Maity, in response to the National Audubon Society's recent decision to retain their current name. Maity serves on the Board of Directors of the Feminist Bird Club and is a constant voice for accessibility and inclusivity in birding. The opinions and viewpoints expressed in this piece are those of the author's.
I was a birder for 14 years before I ever heard of the National Audubon Society (NAS).
I grew up birding in India, and I came to love birds because they found me, gradually drawing me in to go looking for them. I didn't know anyone else who was a birder, I couldn't afford binoculars, I didn't have access to transportation to attend bird walks or join the after-school nature club, and my family never sent me away to a nature summer camp (or any camp at all). The idea of donating to (or volunteering time for) conservation causes felt out-of-reach given the socio-economic status of the community I grew up in.
Six years after moving to the United States, I was still unsure of when and where I could safely bird by myself. So I sought out the birding community on social media, and eventually helped create the open-access Murmuration Project, which crowdsources information on accessibility and safety of birding hotspots. When I first heard of Mass Audubon and the National Audubon Society around this time, I lamented at the bizarre name and how I might have found them years earlier if the name remotely hinted at being associated with birds. At the time, "Audubon" was just a word — until I connected the dots to my searches for a new field guide, which yielded examples of Audubon's artistic legacy.
I'm a disabled, neurodivergent, queer, South Asian immigrant — a bit of a unicorn in American birding spaces — but my experience isn't unique in the least. For inner city kids who get enamored by their first goldfinch, Audubon is not a "household name." Like most new words, it holds neither a positive or negative connotation… probably until they Google it.
Despite trying my hardest to stay engaged by taking on leadership roles at the local bird club, I felt alienated from traditional birding spaces from the moment I stepped into them. (When I use the term "traditional," I'm referring to any organization or club that isn't explicitly anti-racist). As a 5'2" brown-skinned 20-something human of ambiguous gender, I felt like quite the novelty. The fact that I couldn't tell what a Chipping Sparrow looked like probably locked in perceptions that I was an unskilled birder, no matter how well I could spot, observe or narrow any bird ID down to family. I was always an outsider, which involved oscillating periodically between invisibility or glorification.  
Birding alone initially felt like a relief, until I kept repeatedly finding myself in uncannily similar, uncomfortable and even scary interactions with strangers that I had no explanation for. I don't know that I fully comprehended the concept of race for a while afterwards… until a white friend pulled up to a birding spot where I'd been harassed alone, minutes before, and received a very different greeting from nearby humans.
And so being a birder of color in this country was exhausting even before I vaguely considered joining NAS and stumbled upon the horrific racist, anti-abolitionist and eugenicist legacy that John James Audubon left behind. For most birders and would-be birders in the United States, this is a barrier they will encounter much earlier in their birding journey– perhaps even before they have decided whether birding is for people like them.
For me and for countless others who have accidentally found the joy of birds, Audubon's name is not analogous to bird conservation. Yet, this is all that's been offered as a counter-argument to our pleas to rename NAS.
When NAS announced their decision to back their association with John James Audubon's name, I was initially taken aback by the intensity of my indignation and despair. After all, this news didn't appear in a vacuum, and very few of the BIPOC birders or Audubon staff I know actually expected Audubon to change their name. If you're exhausted by how often you've been told that you are "over-reacting" over the decision to retain the Audubon name…I'm here to remind you that you're not "too sensitive," and you need not have "gotten over it by now." It's been three weeks since the announcement, and I'm still processing it too.
While our reactions may seem disproportionate to National Audubon's decision to forgo a name change, they are absolutely justified in the wake of all the other unjust policies and actions they have enabled over the years.
National Audubon Society had already been defending themselves against "allegations that it maintains a culture of retaliation, fear and antagonism toward women and people of color" and several senior officials have resigned over the last few years. According to staff, this consistent lack of accountability is one of the reasons their employees began a push to unionize over a year ago. This organization, The Bird Union, recently changed their name to remove their association with Audubon the person and has "filed complaints with the National Labor Relations Board (NLRB) over disputes involving wages and healthcare benefits."
At the end of the day, the outrage over this decision isn't really about fussing over a symbolic change or backing the "correct" language.
It's about those of us who already don't expect understanding or safety in birding spaces, feeling convinced of our continued roles as "outsiders." It's about people with centuries of generational trauma — which took away their land, inheritable wealth and prospects of belonging to a donor class — being reminded of their place in the conservation movement.
Our pain is amplified in the opaqueness of the board's announcement, which doesn't offer meeting minutes or a breakdown of the March 13 board vote, or disclose that three members resigned from their 26-person board immediately following the vote.
While NAS stated that input from over 2,300 people was considered during their evaluation process for a potential name-change, little has been made public regarding the survey methodology or the demographics of those surveyed. They haven't indicated anywhere that they weighted the "wide range of viewpoints" surveyed to pay closer attention to those who are most disenfranchised, who are hurting the most, or whose families have endured hundreds of years of displacement, enslavement and genocide. 
I've felt especially frustrated in trying to parse out the message NAS intended to convey amidst the many buzzwords that were overused in their announcements. I wonder, "What am I missing here?" Without more transparency, we're only left to peruse through our imagination and the comments from anonymous hecklers on social media, to fill in the blanks.
Further, NAS's announcement seemed to imply that there is a zero-sum tradeoff between dropping the Audubon name and engaging in meaningful conservation work, and I strongly disagree with this premise. It has been projected that BIPOC will become a majority in the United States' population as early as 2045, and changing the NAS name could have been an important step toward earning our trust and building the diverse constituency necessary to make conservation sustainable in the long run.
And so while National Audubon has been able to seamlessly move on from this announcement many of us are still reeling with shock, horror, and anger.
For me and others like me, the Audubon name is not and will never be considered synonymous with the avian conservation movement. Approaching this decision with that false premise was a mistake for the National Audubon Board of Directors. In voting against a name change, and backing the PR strategy they have employed since, National Audubon Society confirmed the suspicions of many— that they have not been listening to or centering the voices of marginalized bird-enthusiasts. While it seems evident to me that they are currently catering to the interests of a predominantly white, conservative donor base, they may have irrevocably alienated what could have been a much broader future donor base.

I can't predict where the bird conservation movement is headed, but I don't find it hard to imagine a world without the National Audubon Society. I find hope in my belief that regardless of the decisions of NAS leadership, the rest of us will still be enthralled by birds enough to remain dedicated to protecting them.
---
Image:
Meghadeepa Maity (they/them) grew up birding in India and now lives in so-called Western Massachusetts where they continually navigate the challenges of exploring the outdoors as a neurodivergent, disabled, Bengali, queer immigrant, and a trauma survivor. They have been a persistent voice championing safety, accessibility and belonging in birding spaces across North America for three years. Meghadeepa currently serves on the Board of Directors of the Feminist Bird Club. You can follow Meghadeepa's work via their LinkTree.
American Pipit © Mick Thompson