Image: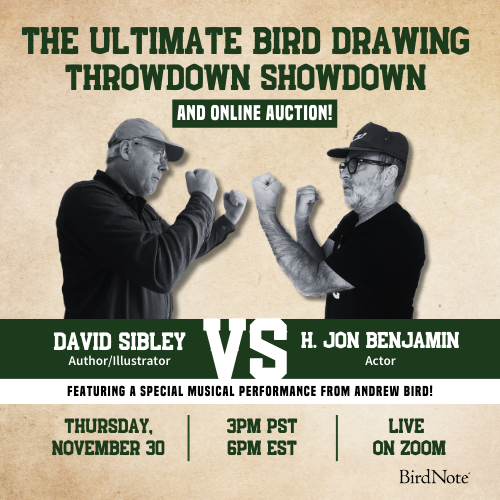 Join BirdNote tomorrow, November 30th!
Illustrator David Sibley and actor H. Jon Benjamin will face off in the bird illustration battle of the century during BirdNote's Year-end Celebration and Auction!
Guidelines for submission:
We invite you to submit lesson plans or activities that show how you use BirdNote in an educational setting. Whether you are a teacher, a home-schooler, or an instructor at a museum, library, park, or other setting, you're welcome to share your ideas - formal or informal - with educators around the globe.
Plan your lessons and activities to:
Align with BirdNote's mission and values.
Make use of BirdNote shows and/or other BirdNote content.
Materials should be timely and add value to BirdNote, educators, and students. Everyone appreciates lessons and activities that can be implemented with a reasonable amount of time, materials, and resources.
Submitting your lesson or activity:
Download and complete the submission form. 
Email your completed submission, including consent form(s), to [email protected]. Include "EDUCATOR" in the subject line. You may also attach any supplemental digital materials and/or photos for your lesson.
Thank you so much for your willingness to share your work with BirdNote and other educators. We will be in touch!