Image: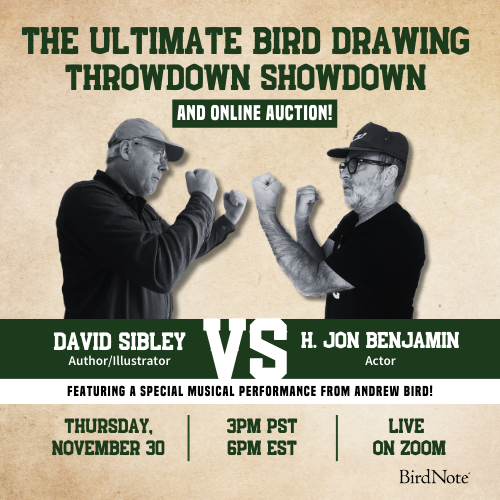 Join BirdNote tomorrow, November 30th!
Illustrator David Sibley and actor H. Jon Benjamin will face off in the bird illustration battle of the century during BirdNote's Year-end Celebration and Auction!
BirdNote host Ashley Ahearn recently sat down with Dr. J. Drew Lanham at the University of Washington College of the Environment Symposium on Nature and Health. The conversation wove through Dr. Lanham's poetry and readings from his memoir to his thoughts about nature, faith, climate change, the loss of birds, and the ways we can work together to confront systemic racism.
"What I've learned from all the years of looking for birds in far-flung places and expecting the worst from people is that my assumptions, more times than not, are unfounded," says Dr. Lanham. "These nature-seeking souls are mostly kindred spirits, out to find not just birds, but solace. A catalogue of friends, most of them white, have inspired, guided and sometimes even nurtured my passion for birds and nature. As we gaze together, everything that's different about us disappears into the plumage we see beyond our binoculars. There is power in the shared pursuit of feathered things."
Dr. Lanham is a BirdNote board member and the recipient of Audubon's 2018 Dan W. Lufkin Prize for Environmental Leadership. He is also an Alumni Distinguished Professor of Wildlife Ecology, Master Teacher and Certified Wildlife Biologist at Clemson University. 
Learn more about Dr. Lanham and his passion for conservation:
Video: Rules for the Black Birdwatcher
Q&A: The Story Behind Rules for the Black Birdwatcher
Dr. Lanham's book, The Home Place