Image: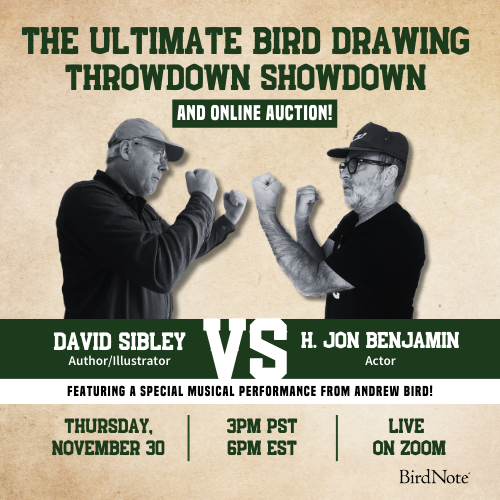 Join BirdNote tomorrow, November 30th!
Illustrator David Sibley and actor H. Jon Benjamin will face off in the bird illustration battle of the century during BirdNote's Year-end Celebration and Auction!
Heid E. Erdrich is the author of seven collections of poetry. Her writing has won fellowships and awards from the National Poetry Series, Native Arts and Cultures Foundation, McKnight Foundation, Minnesota State Arts Board, Bush Foundation, Loft Literary Center, First People's Fund, and other honors.
Erdrich has twice won a Minnesota Book Award for poetry. Heid edited the 2018 anthology New Poets of Native Nations from Graywolf Press. Her latest poetry collection is Little Big Bully. Heid grew up in Wahpeton, North Dakota and is Ojibwe enrolled at Turtle Mountain.
Hear more episodes for Poetry Month
Read along with the poems below as you listen to the episode:
Wild Turkey
Not the bottle 
Not the burn on the lips 
lit throat glow 
Not even wild     really 
but a small-town bird 
whose burgundy throat 
shimmers like nothing ever 
A huge bird    impressive 
who lurches and stalks me 
window to window in this 
desert retreat 
What does he want?
Clearly he is lonely 
pecks his reflection 
and speaks to it in a low gubble 
(not gobble) gubbles so tenderly 
Soon as I think of him     his eye hits on me 
We have watched each other for days 
His shifting colors fascinate me his territorial strut 
But it is his bald and blue-red head 
his old man habits and gait that move me 
If I even think of him     I taste whiskey 
Drunk on solitude     I'd talk to anybody 
I try his language on my lips 
His keen response burns       like shame
Flickers
Abandoned town on the border, I wait
in tedious drilling noise. Flickers,
my sister birds, try a hole. Grub-full
and greedy, they ignore me. Fine, I say,
just fine. When have those birds ever
waited for me? What's in that hole for me?
It is hot while I stalk Flickers for feathers—
red and yellow shafts I mean to collect
for prayer fans. Hen-bodied, they would plummet
so easily. It's a pity they act so disappointed in love.
They make their mates sob sad wet notes that move
them to nest in dead wood. I watch, my gaze still, hot.
Ah! Their wings burn right past me.
One eyes me: the sun in a crushing black rock.
She blots me bone dry, sends me dreaming
through a red and yellow thirst—
this prayer they will teach me.
DNA Tribes
The red-eyed vireo calls:
Here I am. Where are you?
Like some bizarre bio-mimic,
web ads pop up while I email
asking: Native American DNA— 
What tribe are you?
All's I'd need to do is swab 
and mail away 
cells my ancestors took 
millennia to perfect. 
And who owns them then?  
Here I am. Where are you? 
The red-eyed vireo calls,
misleading us to relocate,
following its flight 
away from nestlings tight in twigs, 
to get us lost in a bog, 
asking all along if we even 
know our own locale: 
Here I am. Where are you? 
Native American DNA—
What Tribe are you? 
As if that could fool us, 
make us forget the nesting grounds, 
the red eye cast ever backward 
to a place always known as home.
 
Photo © Chris Felver