Image: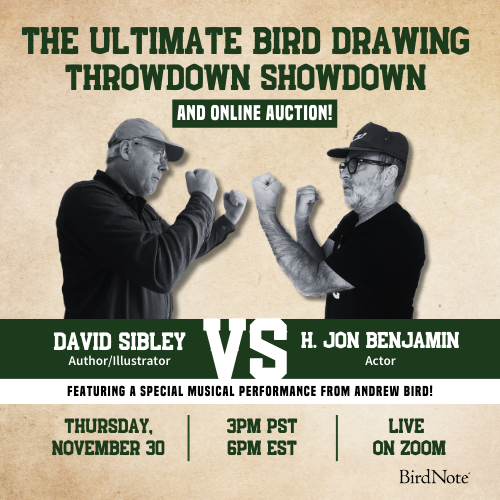 Join BirdNote tomorrow, November 30th!
Illustrator David Sibley and actor H. Jon Benjamin will face off in the bird illustration battle of the century during BirdNote's Year-end Celebration and Auction!
Timothy Steele is an American poet who has received numerous awards and honors for his poetry, including a Lavan Younger Poets Award, the Los Angeles PEN Center Award for Poetry, a Guggenheim Fellowship, and the Robert Fitzgerald Award for Excellence in the Study of Prosody. He has taught at Stanford University and the University of California in Santa Barbara and Los Angeles. Since 1987, he has been a professor of English at California State University, Los Angeles.
Steele is known for his love of rhyme, meter, and traditional forms of poetry. He loves birds, and has had a number of poems inspired by encounters with them.
Hear more episodes for Poetry Month
Read along with the poems below as you hear them in the episode:
Mockingbird
Erratically, tirelessly, in song,
He does his imitations all day long.
Appropriating every voice he hears,
Astonishingly shifting vocal gears,
He chirrups, trills, and whistles crazily,
Perched at the twiggy apex of his tree.
When argued with by smaller, lesser birds,
He raucously refutes them with their words;
When not receiving notice, as he should,
From earthbound members of the neighborhood
He drops down on to chimney or garage,
Continuing his hectoring barrage.
One might object to his inflated noise,
The pertinacious manner he employs,
Except the sequences which he invents
Are born of urgent pathos, in this sense:
For all his virtuosity of tone,
The singer has no note which is his own.
Black Phoebe
Her swoops are short and low and don't aspire
To more, it seems, than nature's common strife.
Perching, she strops her bill upon a wire
As though she'd barbered in a former life.
When the wire rocks, she quickly dips her tail
A few times, and her balance doesn't fail.
If she displays an unassuming pride⎯
Compact, black-capped, black breast puffed to the sun⎯
The sentiment perhaps is justified:
Mosquitoes, gnats, and flies would overrun
Much of the planet within several years
But for her and her insectivorous peers.
Not prone, as are the jays, to talking trash,
She offers quieter companionship;
On summer days, when starlings flap and splash
And make the birdbath overspill and drip
Or empty out its basin altogether,
She seeks the shade and waits for cooler weather.
When autumn whips the plum tree to and fro
And rains slick its dark trunk, and pools collect
Among its exposed roots, and Mexico
Tempts most birds of the garden to defect,
It is a cheering check against chagrin
To think this is the place she'll winter in.
She makes, for now, a series of abrupt
Dives, lifts, and turns; from a tomato stake.
She spots a moth and darts to interrupt
Its course and then retrieves her perch to make
A thorough survey, though at no great height,
Of plants confided to her oversight.
In the Memphis Airport
Above the concourse, from a beam,
A little warbler pours forth song.
Beneath him, hurried humans stream:
Some draw wheeled suitcases along
Or from a beeping belt or purse
Apply a cell phone to an ear;
Some pause at banks of monitors
Where times and gates for flights appear.
Although by nature flight-endowed,
He seems too gentle to reproach
These souls who soon will climb through cloud
In first class, business class, and coach.
He may feel that it's his mistake
He's here, but someone ought to bring
A net to catch and help him make
His own connections north to spring.
He cheeps and trills on, swift and sweet,
Though no one outside hears his strains.
There, telescopic tunnels greet
The cheeks of their arriving planes;
A ground crew welcomes and assists
Luggage that skycaps, treating bags
Like careful ornithologists,
Banded with destination tags.
Photo © Emi Uchiike