Image: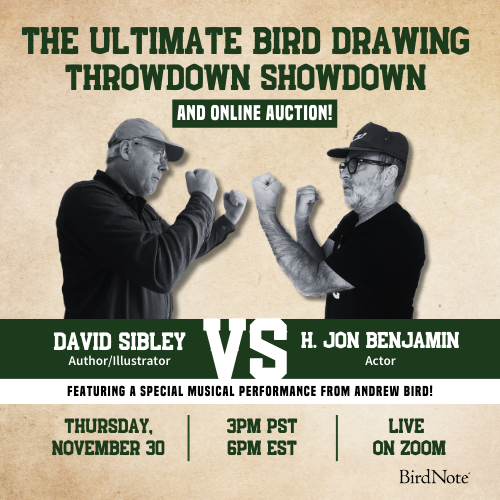 Join BirdNote tomorrow, November 30th!
Illustrator David Sibley and actor H. Jon Benjamin will face off in the bird illustration battle of the century during BirdNote's Year-end Celebration and Auction!
Wendy S. Walters is a non-fiction writer and poet, who holds a MFA/PHD in Poetry and Literature from Cornell University. She is the former Associate Dean of Art and Design History and Theory at Parsons, The New School. Currently she serves as Director of the Nonfiction Concentration and Associate Professor of Writing, Nonfiction in the School of the Arts at Columbia University.
While Walters was living in L.A. during the early 2000s, she wrote a short collection of poems about the city called The Birds of Los Angeles. A number of themes are woven through the collection, including the Iraq War, trying to make sense of images, how we treat the things and people we love, and the birds that caught her attention.
Hear more episodes for Poetry Month
You can read along with the poems in the episode below:
Prophet as Slow Bird
Paper reads "Brown Pelicans Shot" along the coast
of Malibu. No one knows if it is a ritual sacrifice,
but birds are not harmless if one loves them and,
as well, deserve their fate. Dunlins and Godwits boast
of having seen the killer and whisper mis-advice
about the assassinations: birds were shot for being brown.
I smile at the other black girls in the liquor store, a band
of lovelies, but they do not know I want most
to be part of the brood, even though my look is imprecise.
Police come around asking questions, check my hands
for gunpowder, threaten witnesses, misread my frown
as proof. I watch those girls fly, like a skein of geese,
while cops make me promise to not leave town —
I worry about my alibi, the vulnerability of peace.
Hollywood Finches
This story was buried behind a murder on the third page:
A sudden husband is a tree that dances only for she,
who reaches across the table and touches his new wife—
How she flinches, then forgets to close the birdcage.
A house finch expects her neglect and is ready to flee,
a house finch reflects her regret and runs for his life!
He heads for the sea, but stops first to steal a piano.
She thinks, this proves that trees have no place in me
and sets off after the mighty finch, to escape the strife
of matrimony. A nickelodeon is a blurred stage,
but the husband studies newsreels for his dynamo,
proof she existed. Poof! Cut to: a piano that sits
on the shore, alight with corpulent flocks of soprano.
They sing of unlucky romance, how to live without it.
Either I Stay Home and Watch a War on TV
Or a flock of soprano serenades me to the sharp edge
of America, cuts out my eye. Awake a monster is me.
Still I can see a sky black with pianos, parachuting to shore,
playing themes of liberation. Variations on my pledge
of allegiance to the radio. It shouts: America won't stand
for violins against its kin—Awake a monster is me.
I take a good look at myself, and the radio says: you
do not own America but I want to, and I am thinking
America won't stand for violins against its kin
(without joining in!) so I aim at the sky, only my eye
to tell me what is fear or dear. I shoot at words: sparrows,
eagles and jays. Pelicans, egrets and gulls. Gnatcatchers.
I shoot down birds in defense of my right to say this
song is not about love but is love itself, all the little deaths.