Image: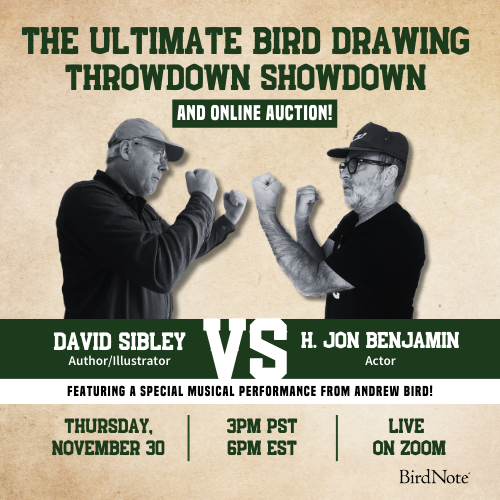 Join BirdNote tomorrow, November 30th!
Illustrator David Sibley and actor H. Jon Benjamin will face off in the bird illustration battle of the century during BirdNote's Year-end Celebration and Auction!
He doesn't sound exactly like Woody Woodpecker, but the Acorn Woodpecker was probably the model for the cartoon character. The story goes that Walter Lantz and his new bride, Grace, were on their honeymoon in a cabin in California. A racket on their roof drew them outside, where they spotted an Acorn Woodpecker, pounding away at the shingles. Now, Lantz was ready to shoot the pesky critter, but his wife suggested that, instead, he vent his frustration in a creative fashion. And in this way, supposedly, Woody was born.
BirdNote®
Acorn Woodpecker – Inspiration for Woody Woodpecker
Written by Ellen Blackstone
This is BirdNote!
[Acorn Woodpecker calls and tapping]
He doesn't sound exactly like Woody Woodpecker, but this Acorn Woodpecker was probably the model for the cartoon character. [Sound of Woody Woodpecker]
Listen to Woody's muse, calling from a dead oak tree. [Acorn Woodpecker calls]
The story goes that Walter Lantz and his new bride, Grace, were on their honeymoon in a cabin in California. A racket on their roof drew them outside, where they spotted a woodpecker, pounding away at the shingles. And worse, the bird actually bored a hole in the roof, letting in the rain. Now, Lantz was ready to shoot the pesky critter, but his wife suggested that, instead, he vent his frustration in a creative fashion. And in this way, supposedly, Woody Woodpecker was born. [Sound of Woody Woodpecker]
An Acorn Woodpecker might use an old roof in a pinch, but it's much more likely to excavate holes in oak trees, stuffing the holes with acorns. [Acorn Woodpecker calls] Dozens of acorns. Hundreds of acorns. The cartoon Woody was an imp, but the Acorn Woodpecker is an industrious bird. [Many Acorn Woodpecker callings] A family group will store thousands of acorns over the course of a year. [Acorn Woodpecker calls]
 You can see a photo of an Acorn Woodpecker – and compare him to Woody – on our website, birdnote.org. [Woody Woodpecker theme music, Walter Lantz, Universal Pictures]
###
Call & tapping of Acorn Woodpecker provided by The Macaulay Library of Natural Sounds at the Cornell Lab of Ornithology, Ithaca, New York. Sound recordist David L. Ross, Jr.
Woody Woodpecker theme music, Walter Lantz, Universal Pictures
Woodland ambient recorded by C Peterson.
Producer: John Kessler
Executive Producer: Chris Peterson
© 2013 Tune In to Nature.org  October 2016/2020  Narrator: Michael Stein
 ID # ACWO-01-2011-10-05   (some sounds from 033105PIWOKPLU)