Image: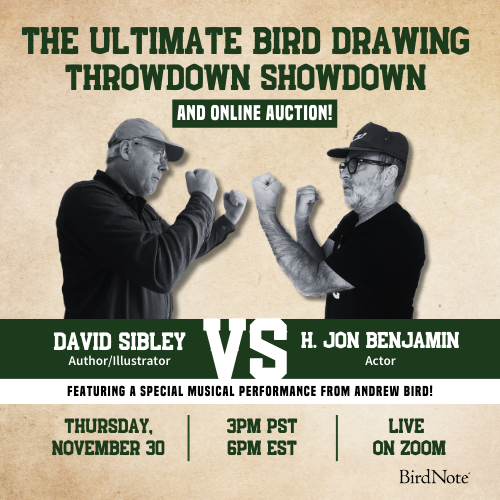 Join BirdNote tomorrow, November 30th!
Illustrator David Sibley and actor H. Jon Benjamin will face off in the bird illustration battle of the century during BirdNote's Year-end Celebration and Auction!
American White Pelicans have a nine-foot wingspan, nearly that of the California Condor. In summer, they breed mainly in the interior west of the United States and Canada, favoring shallow portions of lakes, marshes, and rivers, where they scoop fish from the water in the pouches of their beaks.
BirdNote®
American White Pelicans - Soaring Giants
Written by Bob Sundstrom
This is BirdNote.
[Sonata in G - 3 Largo by Richard Tunnicliffe & Sebastian Conberti]
Enormous white birds soar gracefully in close formation against an azure sky, wingtip to wingtip. Circling ever higher toward a scattering of clouds, these giants have as long a wingspan as any birds on the continent. Are they eagles? Vultures? Cranes?
They are American White Pelicans. Spread wide, their wings measure a full nine feet tip to tip, nearly that of the California Condor. American White Pelicans seem to drift without effort on updrafts. They glisten snowy white, except for their black flight feathers.
When standing on a sandbar, American White Pelicans look ponderous. Their comically oversized yellow-orange beaks are a near match to their huge orange feet. They simply dwarf any Brown Pelicans alongside, standing a full head taller.
In summer, these birds breed mainly in the interior west of the United States and Canada. They favor shallow portions of large lakes, marshes, and rivers, where they scoop fish from the water in the pouches of their beaks. Loads of fish — because a pelican chick may eat a hundred and fifty pounds' worth before it leaves the nest.
See photos and videos of American White Pelicans, when you come to our website, BirdNote.org.
For BirdNote, I'm Michael Stein.

###
BirdNote's theme music was composed and played by Nancy Rumbel and John Kessler.
Producer: John Kessler
Managing Producer: Jason Saul
Associate Producer: Ellen Blackstone
© 2017 Tune In to Nature.org   September 2018 / 2020 / May 2023 
Narrator: Michael Stein

ID#    AWPE-01-2017-09-04           AWPE-01           

American White Pelicans - Soaring Giants 296
A giant with a giant pouch