Image: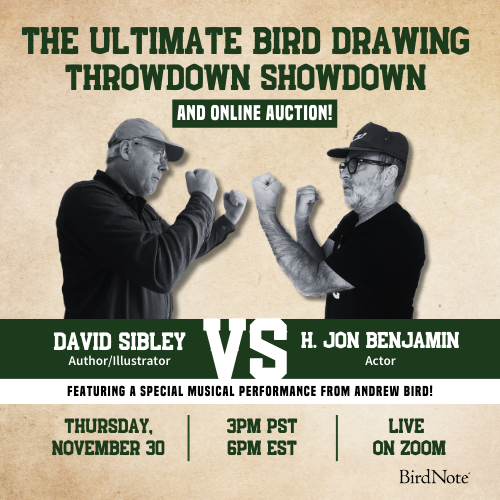 Join BirdNote tomorrow, November 30th!
Illustrator David Sibley and actor H. Jon Benjamin will face off in the bird illustration battle of the century during BirdNote's Year-end Celebration and Auction!
One of the best studies of a North American bird ever written was published by a citizen-scientist named Margaret Morse Nice. Margaret Nice banded more than 800 Song Sparrows in a 40-acre tract in Ohio. Most of us have neither the time nor the 40 acres, but there is still much we can do. Start by keeping a careful record of what birds show up in your yard and when. You can keep your own records, and also report them to Cornell University's eBird. Together, we can help #BringBirdsBack.
Support comes from Sasquatch Books, announcing Every Penguin in the World, a narrative and photographic book that chronicles a couple's quest to see every penguin species on the planet.
BirdNote®

Backyard Science
Written by Dennis Paulson
This is BirdNote!
[Song Sparrow song]
Is there anything a determined backyard birder can do to contribute to the science of ornithology? You bet there is. [Song Sparrow song]
One of the best studies of a North American bird ever written was by Margaret Morse Nice, about Song Sparrows. In the 1920s and '30s, while she was raising her family, Margaret Nice banded more than 800 sparrows in a 40-acre tract near her home in Ohio. Most of us nowadays have neither the time nor the 40 acres. But there's still much we can do.
[American Robin song]
The easiest way to collect information at home is to keep a careful record of what birds show up and when. Start in spring, when birds begin to sing. Spend some time each week noting and recording the comings and goings of the birds in your yard. In just a year, you'll have more than 50 records. Think of all the information you'd have after five or ten years!
[Song Sparrow song]
The better we understand bird populations, the more readily we can preserve them.
For BirdNote, I'm Michael Stein.
Support comes from Sasquatch Books, announcing Every Penguin in the World, a narrative and photographic book that chronicles a couple's quest to see every penguin species on the planet.
###
Bird audio provided by The Macaulay Library at the Cornell Lab of Ornithology, Ithaca, New York. Song Song Sparrow song recorded by G. A. Keller. American Robin song recorded by W.L. Hershberger.
Producer: John Kessler
Executive Producer: Chris Peterson
© 2010 Tune In to Nature.org             April 2010 / 2020
ID# 041207bkyrd-sciKPLU     banding-02b