Image: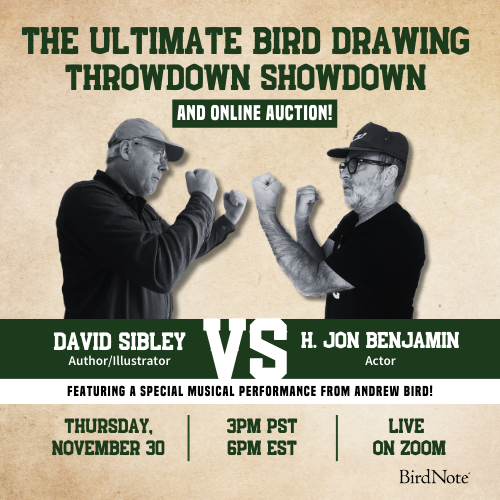 Join BirdNote tomorrow, November 30th!
Illustrator David Sibley and actor H. Jon Benjamin will face off in the bird illustration battle of the century during BirdNote's Year-end Celebration and Auction!
Dan Harville has banded more than 11,000 hummingbirds! He affixes a tiny aluminum ring bearing a unique number around the lower part of the bird's left leg. That number will provide vital information to any bander who recaptures it. From the work of the banders, we know that a Rufous Hummingbird, like this one, returns to the same site every year, after flying perhaps more than 2,500 miles to Mexico and back.
If you see a hummingbird or other bird wearing a band, please report it at ReportBand.gov.
BirdNote®

Banding Hummingbirds – An interview with Dan Harville

By Chris Peterson

This is BirdNote.
 [Sound of RUHU wings]
Imagine putting a tiny band on the leg of a hummingbird! Dan Harville has done this more than 11,000 times! Let's eavesdrop as Dan, with his wife Jan, measures – in millimeters – a female Rufous Hummingbird they captured by dropping a net over a feeder.
17.05 for the bill; 44.25 for the wing; 12 throat feathers…[fades; 1 for fat; no egg; 28 for the tail. She's got one white feather on the crown.]  

Before releasing the bird, Dan affixes, around the lower part of her left leg, a tiny aluminum ring bearing a unique number. That number will provide vital information to any bander who recaptures her.
Having this unique number, we can start to follow this bird over the rest of its life…

From the work of the banders, we know that Rufous Hummingbirds return to the same sites year after year, some after flying more than 2,500 miles each way, to Mexico and back.

…We start to be able to put together the pieces of what route all these birds are taking... what areas ..may be important to them, in migration, because migration is tremendously stressful … The places that they may stop for two or three days end up being very important …as they put on fat for the rest of the trip

140 species of hummingbirds live in the Amazon basin. Travel there with us in January and see how many you can see. Learn more at birdnote.org.
###

Sounds of Rufous Hummingbirds provided by The Macaulay Library at the Cornell Lab of Ornithology, Ithaca, New York. Call (when perched) and wing beat recorded by G.A. Keller.
Ambient recorded by C. Peterson.
Producer: John Kessler
Executive Producer: Chris Peterson
© 2009-2016 Tune In to Nature.org   July 2016   Narrator: Michael Stein

ID# banding-03-2009-09-29    banding-03b