Image: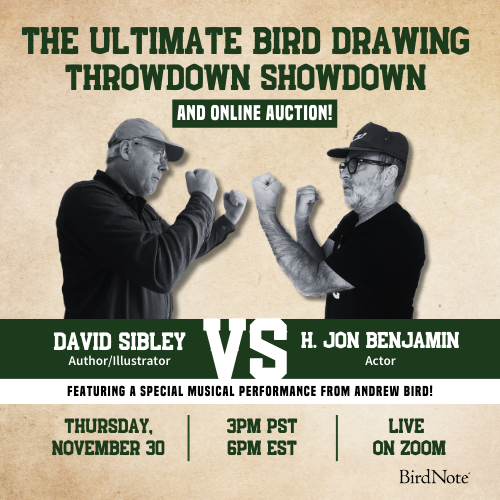 Join BirdNote tomorrow, November 30th!
Illustrator David Sibley and actor H. Jon Benjamin will face off in the bird illustration battle of the century during BirdNote's Year-end Celebration and Auction!
A fine woodworker has a chest full of tools, each designed for a specific task. Birds also have highly refined tools-their bills. The size and shape of a bird's bill match perfectly the food they seek and the way in which they obtain their meals. Different species of shorebirds that forage shoulder to shoulder in tidal estuaries (like this Marbled Godwit and Willet) have bills of different lengths. As a result they don't compete for the same food. 
BirdNote®
Bill Shape = Food Source
Written by Frances Wood
This is BirdNote!
[Sound of hand tools]
A fine woodworker will have a chest full of tools of different sizes and shapes, each designed for a specific task.
Birds also have highly refined tools—their bills. The size and shape of a bird's bill match perfectly the food it seeks and the way it obtains its meals.
Think of a hummingbird [Anna's Hummingbird vocalizations], slipping its long, thin bill deep into a flower to suck out nectar, or the large hook-shaped bill of an eagle [Eagle calling], ripping apart its prey.
 The chunky bill of a puffin [Puffin's call or sound of waves] can hold a line-up of small fish, allowing the bird to gather a large store of food before flying -- often long distances -- back to its burrow.
Different species of shorebirds that forage shoulder-to-shoulder in tidal estuaries have bills of different lengths. As a result they don't compete for the same food. Plovers [Plover calls] collect prey from the surface using short, blunt bills. Dowitchers [Dowitcher calls] probe under the surface with longer bills. Curlews [Curlew calls], with their extremely long bills, reach deep into the substrata to find food. Through evolution, each bird has developed the tool it needs to survive.
###
Bird sounds provided by The Macaulay Library of Natural Sounds at the Cornell Lab of Ornithology, Ithaca, New York. Anna's Hummingbird recorded by A.A. Allen. Bald Eagle call recorded by J.R. Storm. Tufted Puffin call recorded by E.S. Booth. Killdeer call recorded by G.A. Keller. Short-billed Dowitcher call recorded by C.A. Sutherland. Long-billed Curlew call recorded by R.S. Little.
Tool sounds recorded by John Kessler
Producer: John Kessler
Executive Producer: Chris Peterson
© 2011 Tune In to Nature.org      August 2011/2021 November 2023   
Narrator: Mary C McCann
ID# bill-02b-2021-8-1    bill-02b